How to reduce restaurant costs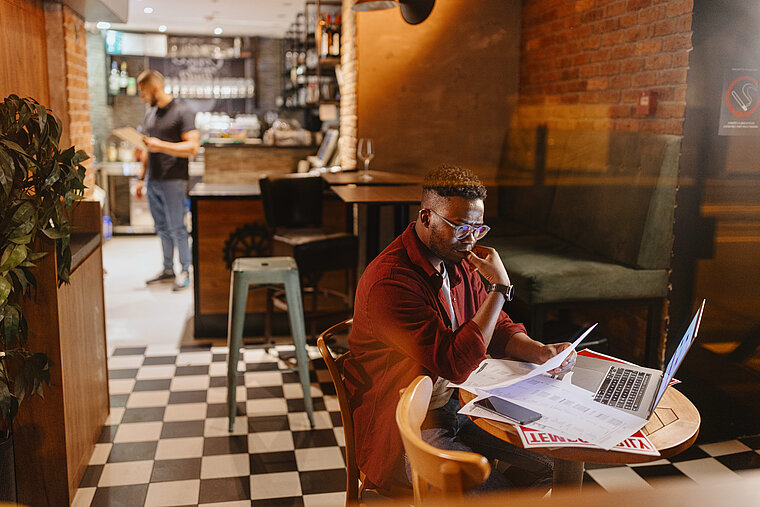 Reducing restaurants costs is now a major priority as inflation continues to soar. Following two years of post-pandemic recovery, the sector is now suffering another blow in the form of rising inflation. According to the Office for National Statistics, the Consumer Prices Index (CPI) in the UK in September was 10.1%. And Statista reports that Europe is averaging 10.9% during the same month, and a staggering 15.4% in the food sector.
Inflation inevitably affects everyone, and we have to find a way to not only overcome the challenges but also to analyse and adapt to our customers and employees. It comes as no surprise then, that customers are economising and eating out less. Employees are also feeling the pinch and seeking better working conditions, putting even more pressure on an already difficult scenario of staff shortages.
Having said all of that, how can we reduce restaurant costs and improve operational efficiency in restaurants to keep our businesses in profit? In this article, we explore some of the solutions..
Controlling food costs in restaurants
Food and drink prices are soaring at exorbitant rates, representing another huge blow for hospitality businesses. Many are closing or reducing their opening hours. Nevertheless, there are things we can do to control restaurant costs that also improve production and help us better prepare for any other future uncertainties.
Getting stock levels right is fundamental for controlling food costs. Knowing exactly how much stock we have, and how much we need, will avoid spoilage and food waste. Also, being able to adapt portions and menus in line with fluctuations in sales is key to achieving operational efficiency in restaurants.
All of this is possible with inventory management software such as Easilys f&b by MAPAL. This kind of technology for reducing food costs in restaurants gathers all your supplier information in one place, enabling you to guarantee the best quality and priced ingredients while saving up to 16%.
What's more, it will also help you calculate the right type and quantities of ingredients in the exact portions across all sites through accurate sales forecasts. All this helps you streamline purchasing and control food costs while also becoming a more sustainable business.
Saving energy and reducing restaurant electricity bills
In a survey of UK hospitality businesses by The Caterer, the majority revealed their energy bills had increased by over 100%; while 22% had seen a rise of over 300%, and 22% said their costs had risen by over 400%.
There's no doubt that saving energy is in everyone's interests and is fundamental to buffering the effect of inflation. We waste energy every day, whether it's by leaving lights on, or equipment plugged in or not checked regularly enough to ensure they stay in optimal working condition. Following procedures to check all of this will undoubtedly result in lower gas and restaurant electricity bills but doing so also involves a lot of time and resources.
Luckily, cost-reducing digital checklist software can make life a lot easier. Compliance by MAPAL enables your team to complete all daily operational checks much more accurately and efficiently. You can assign simple mobile-friendly checklists to your team, so they follow your energy-saving strategy, check temperatures, switch lights off and ensure appliances are only switched on when necessary. Managers and head office can monitor compliance and quality levels from a distance and in real-time. All in all, it saves your team time to spend with your guests and gives you greater control over the operational efficiency in restaurants.
You can read more about hospitality energy-saving measures in this article.
Optimising hotel, bar and restaurant labour costs
Aside from inflation, the recruitment crisis is also aggravating the current situation and one where demand for talent is outstripping supply. In Q2 of this year, hospitality operators were still trying to fill almost 170,000 unfilled job vacancies in the UK.
Once you have found the right candidate for a position, the onboarding process begins. A well-structured onboarding programme can significantly reduce the time it takes for a new hire to become productive, not to mention the manager's time in overseeing their training. A positive onboarding experience also increases their motivation and commitment to their new employer. This is crucial to retaining them in the first 90 days and avoids further recruitment costs to replace them should they leave (estimated to cost around six to nine months of that employee's salary).
Using hospitality training software to improve onboarding such as Flow Learning will help you streamline the whole process while also helping you reduce restaurant labour costs in the long run. Encouraging your team to become experts at their job through our versatile solution also increases upselling, employee loyalty, team communication and motivation. Interactive, bite-size learning modules improve the employee experience and enhance retention while also enabling them to learn at their own pace from any mobile device. You can read more about creating a solid onboarding process in our whitepaper, Excellence in hospitality onboarding and retention.
The right people in the right places: crucial for streamlining restaurant costs
Wages in hospitality are also rising, both due to the increase in the minimum wage and the scarcity of talent in the sector. Nevertheless, it's essential to ensure you have adequate staffing levels and skills to maximise productivity and revenue.
Accurate shift planning, however, is one of the biggest challenges in achieving efficient workforce management in restaurants. Added to this is the employers' responsibility to comply with labour regulations and ensure the well-being of their team.
Understaffing can lead to inferior customer service, dissatisfied guests, and stressed employees. On the other hand, overstaffing brings inefficiencies and unnecessary restaurant labour costs. Ensuring you have the right people in the right place is key to operational efficiency, and a workforce management solution for restaurants and bars will help you achieve that.
You can generate instant rotas with Workforce by MAPAL's shift optimisation engine that are based on past sales data to offer you the perfect shift plan. A simple drag-and-drop dashboard makes life so much easier, giving you the option to save your favourite shift plans and re-use them for the future, or for other stores. See how Burger King managed to reduce labour costs by up to 21% with our shift planning tool for restaurants.
Times may be tough, but the right technology can help you combat inflation in hospitality, reduce restaurant costs and maximise operational efficiency for restaurants, improving productivity and boosting revenue at the same time. Get in touch to learn how the MAPAL OS suite of hospitality solutions can help.