Restaurant technology robots AI reduce costs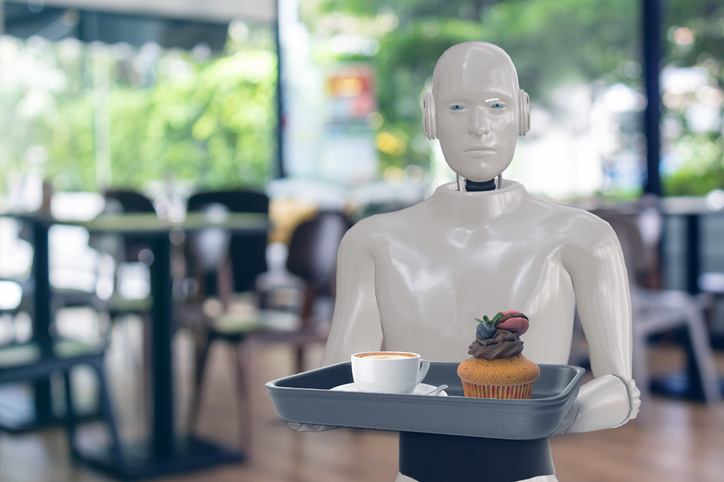 A wave of digitisation swept the hospitality industry during the pandemic, accelerating restaurant technology to heights unimagined before it began. In some ways, it was a good thing as our sector was almost forced to become more efficient to survive.
Brands that were first to take the leap found the creativity to pivot towards online ordering, delivery, and dark kitchens. This then led many brands to re-examine their digital presence to maximise these new online channels. All this made a digital transformation in hospitality an even more pressing requirement and now that the pandemic is well behind us, restaurant tech continues to evolve.
In this article, we take a look at the leading trends in restaurant technology and try to answer the question, is robotisation the answer to rising costs and labour shortages?
Restaurant technology: the dominance of omnichannel
Customers have become increasingly used to ordering whatever they want, whenever they want it. There are so many ways to order food whether via the company's app or website, a third-party aggregator, a digital kiosk, QR-code-enables tables, WhatsApp, or by simply asking Alexa.
But it isn't all about what customers want, omnichannel operations are now vital for any food service business to increase sales, optimise kitchen space and for building loyalty.
While third-party aggregators saw huge growth during the pandemic, operators have since caught up and are developing their own delivery solutions. The high commissions charged by third-party aggregators have driven many restaurant brands to create their own delivery fleets. This gives them more control over their end-to-end service and they can also pass on savings to their customers.
Virtual kitchens are still on the increase and companies that operate their own virtual kitchens and ordering apps have direct access to customer data, further strengthening their own digital marketing efforts. Offering multiple concepts out of the same kitchen through online ordering and restaurant tech gives operators the chance to maximise space, improve their food offerings and keep costs down.
A solid online presence is essential for success in omnichannel operations, and it doesn't always come overnight. KFC faced this problem, and it has been steadily investing in digital marketing over the past few years. The pizza delivery market is highly competitive and one bad experience can lose customers for life. Pizza Hut invested in data capture technology and introduced lifecycle campaigns through automated and personalised communication. The results were clear: conversion rates doubled, and customer engagement increased by over a third. These strengthened relationships improved loyalty, revenue and margins while also keeping customers at the heart of everything they do.
Robotisation labour saving or cost-reducing?
The recent recruitment crisis has led to speculation that robots could alleviate our woes. But is robotisation the answer to filling the talent gap? For more insights on this topic, watch our recent webinar: Humans vs. robots: Is robotics the future of the restaurant?
Many brands who are investing in restaurant tech are starting to experiment with robots in their operations. Let's take a look at some examples to see if the benefits really do outweigh the costs.
Bella Italia was the first brand to trial Bellabot – made by Chinese company Padu - in the UK last year. The robot can carry up to 40 kg on four trays, delivering plates to tables and retrieving them later, but need human help to load and unload. Apart from attempting to fill the talent gap, the experiment also attracted a lot of attention on social media networks such as TikTok.
McDonald's, on the other hand, started introducing Padu's Bellabot into some of their Slovenian stores in December 2021. The objective at the time was to reduce virus transmission and help reduce costs and improve efficiency. But the brand's CEO, Chris Kemczinski, told Restaurant Business Online: "We've spent a lot of money and effort looking into robotics, and there's not going to be a silver bullet that addresses this for the industry", the economics don't pencil out." According to him, robots alone are not the solution as stores need significant infrastructure investments to make it work: "Add those costs in", says Kemczinski, and the labour savings are just not enough to justify the investment."
Does robotisation affect the customer experience?
Customer experience is among the top business objectives for restaurant operators worldwide, but how will robots influence that experience?
The Journal of Tourism Futures report by Emerald suggests that the most important elements of customer experience are food quality, service quality, comfort, ambience, price, health and safety. However, in the same report, they also said that customer surveys carried out in 2019 revealed they felt that not all tasks were suitable for robotisation.
The most suitable tasks were deemed to be cleaning tables, giving more menu information, and taking orders. But from a business perspective, using robots to take orders could sacrifice upsell opportunities.
You can read more about how digital technology and robotisation will affect the future of restaurant tech in our recent whitepaper, Accelerated digitisation in the hospitality industry.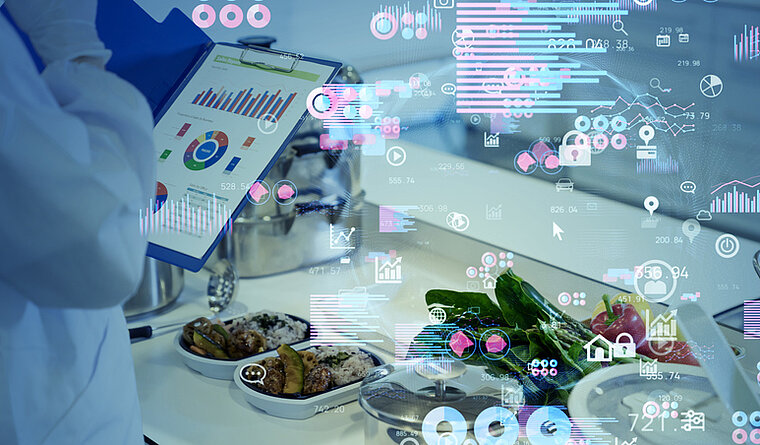 How can restaurant technology improve the customer experience while reducing costs?
The extent to which we'll see robotisation in restaurants is still unclear. But there are many other ways that digital technology helps hospitality businesses reduce costs while also enhancing the customer experience.
Digitise training with a hospitality LMS
The human factor is the keystone of the hotel and restaurant industry, so it's essential to invest in people development, especially considering the increasing lack of talent available.
Hospitality LMS (Learning Management Systems) are platforms that enable you to manage employee learning and skills development. Many businesses use a hospitality LMS such as Flow Learning by MAPAL to train teams on brand standards, compliance, product knowledge and service. Flow also offers career planning tools to help you encourage and prepare your best talent for management positions. Onboarding becomes a smoother and shorter process, new hires start motivated and ready to hit the floor and employee retention increases as your teams can see real career development paths for the future.

Improve people engagement and the employee experience
Engaged employees are happier, more productive and more committed to your brand. So, it makes sense to invest in your people engagement strategy and maximise communication via digital tools. Engagement by MAPAL enables you to automate communications, such as instant messaging, forums and online suggestion boxes that ensure employees feel heard and improve team spirit. Investing in people engagement tools helps maintain a strong and positive corporate culture, foster internal communication, monitor employee experience and retain talent over the long term.

AI-powered shift scheduling
Shift scheduling is perhaps one of the most time-consuming tasks a manager performs. There are so many criteria to consider: maximising revenue while keeping labour costs down and finding enough staff to cover your needs and keep them happy. Workforce by MAPAL staff schedule optimisation engine makes it easy for you through AI algorithms that help you find the best combination of staff and skills for maximum productivity in each sales channel and ensures you're never over- or understaffed. As a result, teams are more productive, happier and less stressed, offering customers a better service which benefits your business revenue all around.

Streamline your operations management procedures
Your team takes a significant amount of time performing daily operational checks to guarantee the necessary health and safety conditions to protect your guests. And if you're still using manual procedures for these operations management tasks, you're probably not achieving the compliance levels you need and also wasting time that your team could be spending with customers. Digitising your operations management procedures into a simple checklist app reduces time spent and also boosts compliance levels and improves safety at your venues. Read more about digitising operations management tasks with Compliance by MAPAL.

Slicker kitchen management with food management software
Restaurants are facing the perfect storm and battling with issues such as food inflation, supply chain issues and more discerning customers with less disposable income
So, despite the cost challenges, hospitality must also guarantee a quality customer experience to stand out from the rest and maintain loyalty and preserve their reputation. Kitchen and food management software for chefs such as Easilys f&b by MAPAL enables you to streamline supplier relationships and inventory management, improve traceability and keep costs down. With its menu engineering features, you can track ingredients and costs instantly with all nutritional information at hand, calculate prices and monitor sales via POS integrations.

Make the right decisions with business intelligence tools
We have so much data at our fingertips today, that it can be hard to keep track of and use it to our best advantage. Business intelligence tools are a huge help to operators by gathering all your data from customers, suppliers, sales, profits, etc. and presenting you with valuable insights. Track your KPIs, and monitor sales by channel, meal type, time of day or period, weather conditions through Analytics by MAPAL which integrates with the entire MAPAL OS hospitality management system, or your external systems to give you cross-business analysis for better decision making.
Read the full report on the state of digital transformation in the hospitality industry and the future of robotisation in this comprehensive whitepaper, Accelerated digitisation in the hospitality industry. It's free to download here.