Hospitality technology trends and innovations 2022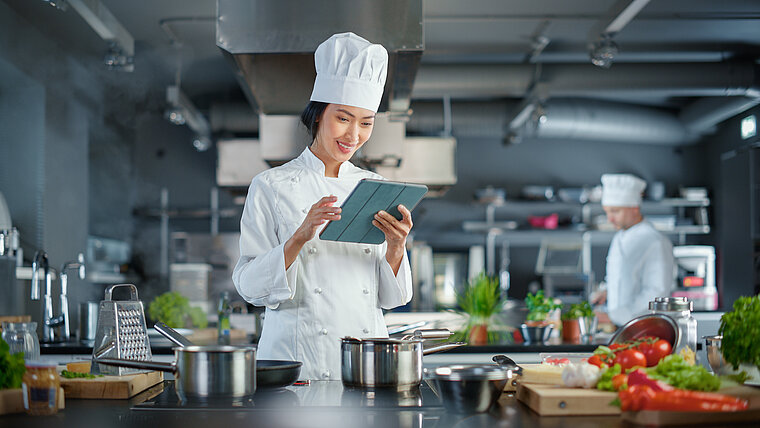 Agility has been the name of the hospitality game over the last few years. Our sector has experienced a succession of blows, and only those able to adapt have stayed on their feet.
As the pandemic eased, brighter predictions for 2022 went out of the window as the world turned its focus on Ukraine in February. We now face an unstable and unpredictable supply chain, rising inflation, and a persistent recruitment crisis. It's time to reduce costs, optimise our business and work smarter to survive.
To our rescue, technology has raced ahead, enabling us to put our unwavering creativity into practice. And that tendency is here to stay. This blog looks at which hospitality technology operators should be focusing on right now.
Using big data in hospitality to improve performance

Leveraging transactional data
While our POS systems handle transactions effectively, the data obtained could be used for so much more. When integrated with other systems, this valuable transactional data can be used to better predict inventory demand, improve your supplier relationships, reduce waste and control costs. You can also use big data in hospitality to improve staff scheduling, optimise productivity and reduce labour costs through integrated workforce management tools such Workforce.
When a meal is sold through your POS, Easilys f&b automatically updates your inventory and future order lists, telling it exactly which ingredients to order. This inventory management tool gathers all your supplier data and pricing in one place, improving your supplier relationships, and helping you reduce costs and waste.
Single management systems for enhanced all-round performance
Many operators read about the latest technology trends in the hospitality industry and aren't sure which tools to choose or already have too many on their hands. Too many different tools and passwords can confuse your team and require extra training hours, dispersed support services and mention inflated costs.
More importantly, however, much of the valuable data goes underutilised if the different tools are not properly integrated.
We're now seeing more and more leading brands move over to all-in-one single management systems that take care of all your needs. MAPAL OS, for example, is a complete suite of back-office management tools created exclusively for hospitality businesses, with a single sign-in access.
You can have all your tools in one place with a clear and user-friendly dashboard offering deep data insights and customisable analytics across your entire business: workforce management, employee learning and development, team engagement, kitchen inventory, compliance, and facilities management tools as well as online reputation.
Hybrid operating models speed up the use of AI in hospitality
While the pandemic gave rise to a boom in virtual and dark kitchens to help restaurant businesses stay afloat, this hybrid environment impacts customer satisfaction. So, brands must ensure they deliver a consistent experience across all channels, including menus, promotions, pricing and customer service.

Customer data helps streamline operations
The answer is in leveraging the data gained from AI in hospitality through restaurant technology such as online ordering and transactional data to streamline processes across the board. This helps you ensure that each site has adequate staffing levels while also keeping labour costs down and optimising productivity to suit peak and low demand.
With food costs on the rise, you can protect your bottom line by using kitchen inventory management tools. This type of software helps you ensure that each dish is of the same size and quality, and waste is kept to a minimum.

Maintaining standards across all models through consistent monitoring
Food safety is paramount, and foodservice businesses must also ensure compliance across all these channels. You can simplify this by digitising all operational checklists into a simple app, so your staff can stay on top of safety standards quickly and easily.
Your management team will have complete transparency of compliance levels across the organisation, giving your team more time to focus on your guests. And in a sector notorious for its high staff turnover, this simple digital checklist hotel and restaurant technology cuts onboarding time significantly while also increasing team satisfaction.
Technology for supply chain management and sustainability in hospitality
Supply chain management is becoming imperative on moral, economic and customer acquisition grounds.
According to the UN's Food and Agriculture Organisation, one-third of all food is wasted. The energy used in producing, transporting, and decomposing that food is also responsible for 8-10% of greenhouse gases.
If we're going to improve sustainability in hospitality we need to save energy, reduce waste and demonstrate supply chain transparency to meet with EU regulations and increasing customer demand for healthier, responsibly-sourced dishes.

How to reduce your carbon footprint
Replacing your appliances with more energy-efficient alternatives may seem expensive but the economic and environmental savings outweigh the initial investment. In addition, by monitoring your equipment regularly you can spot operational efficiencies before they become a problem. Defective machines and appliances waste energy, put food safety at risk and, if they break down altogether, cost our business money.
Facilities by MAPAL is a comprehensive business facilities management system that helps ensure you're always ready for business, compliant and avoid unnecessary downtime or energy wastage.

Inventory planning and forecasting tools to control costs and reduce waste
Replacing paper-based systems with restaurant technology tools in your kitchen is the most efficient way of reducing waste and streamlining processes across all sites. Leveraging big data in hospitality through tools like Easilys f&b can help to:
Gather all your supplier data in one place and control costs and margins, saving you up to 10% on all purchases.
Standardise menu cards and portion sizes, meaning that every dish is identical across all sites.
Measure plate waste and adjust your product offerings accordingly.
Source responsibly and demonstrate food chain transparency for all stakeholders and comply with regulations.
Employee engagement tools to attract, retain and grow your talent
Hospitality recruitment difficulties won't be easing any time soon. Our sector has a poor reputation for employee wellbeing and career prospects. We have a huge challenge ahead to improve this.
Employers need to invest in intuitive employee engagement tools and team management software that integrate with other systems to offer flexible shifts, shift-swapping and multi-site rotas.
Interactive learning and development tools like Flow Learning are crucial to ensuring that teams are compliant, skilled and have sufficient product knowledge to offer the best service, uphold brand standards and optimise revenue. And learning and development platforms that make career progression opportunities visible via accessible learning pathways will help you retain talent in the future.
Guest data and customer experience
Recent hospitality trends and innovations also include delivery and front-of-house technology, bringing a surge in guest data. We have more than enough information about them, and their expectations are rising.

Personalisation
Customers have provided their data, and now they expect communications to be relevant based on their preferences and previous engagement with your brand. If they always choose veggie options, they're unlikely to want offers for beefburgers. Personalising your marketing efforts using AI in hospitality will also help you optimise your marketing spend and obtain a greater ROI.

Satisfaction
Whether you capture guest satisfaction data onsite or from social platforms, we should use it to improve our offering. Also, failure to act quickly when a dissatisfied guest publishes a bad review can be disastrous for your brand. Reputation by MAPAL gathers all your reviews in one place, speeds up response times and generates valuable data you can use to enhance your product or service. Get valuable insights into the most popular dishes, customer sentiments and demographic information to fine-tune your marketing campaigns. The tool will also analyse guest photos to bring you deeper data insights into your customers' habits and preferences.
If you'd like to see how MAPAL OS can help optimise your processes and give you valuable and actionable data, talk to our team.