How to reduce energy bills in your hospitality business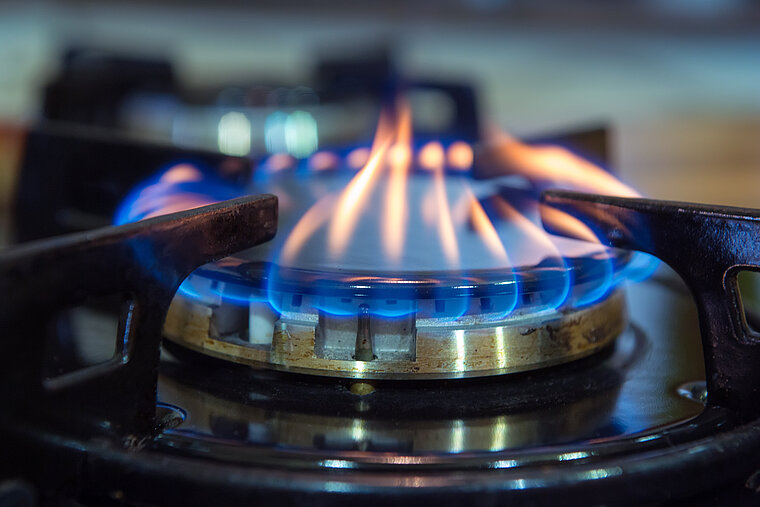 Hospitality businesses use 355,000kWh of energy per year, according to the Carbon Trust's Hospitality sector energy-saving guide - enough to power 18 homes! That's a lot of energy. And with the recent surge in energy prices, reducing energy bills and consumption are at the top of business agendas.
While the UK government is implementing price fixes as part of its energy support plans for businesses this autumn, there's no confirmation on how long they will last. This still leaves many companies with a great deal of uncertainty about what happens in the longer term.
One thing is clear: regardless of government energy support, reducing energy consumption wherever possible is a must for the future health of our businesses and the environment. According to the Carbon Trust, you could save as much as 10% on energy usage by implementing some simple efficiency measures.
Flow Learning by MAPAL got together with the Sustainable Restaurant Association to offer you Be Energy Smart - a free learning resource to help hospitality businesses reduce energy bills. The resource is available to everyone in the sector, even if you're not a Flow Learning customer.
This article takes a sneak peek at what's included, and you can download the resource here.
How can hospitality businesses reduce energy costs?
Well, the answer depends on the type of business you operate. A hotel, for example, spends almost half of its energy on heating, whereas in pubs that falls to around a quarter. The same goes for hot water; hotels use nearly double the amount consumed in pubs.
On the other hand, pubs consume just under three times more energy for lighting than hotels, and a large proportion to run cellars.
On the other hand, energy consumption in restaurants is different, as you can see in the graphic below.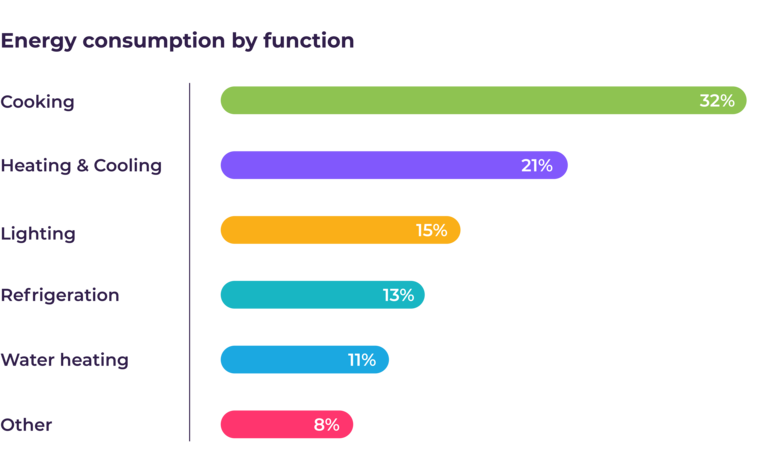 So, it would help if you analysed your energy consumption to see where you're using, and wasting the most.
Actions to reduce energy costs: adjust, switch off and maintain
These will be the first areas to implement energy-saving actions when you have identified where your business uses the most energy. Here's a summary of some of the measures you could consider.
Cooking:
Turn appliances off when not in use, use automatic settings, or turn them down during quieter periods. Use residual heat for things that don't necessarily require burners.
Lighting:
Make sure the lights and windows are clean and that they're switched off when not in use or programmed automatically.
Refrigeration:
Ensure the equipment is set to safe and energy-efficient temperatures and clean and in good working order.
Water, heating and cooling:
Adjust temperatures, ensure automatics settings are correct for usage times, that radiators are unobstructed, control draughts, etc.

How do you monitor the actions introduced?
Your energy-reducing actions will only work if your team implements them every day. You may even feel that this adds to their workload or doubt that they'll put these actions into practice. Nonetheless, failure to act will cost you money, so ensuring your effective plan is crucial to our bottom line.
Lighten your team's workload and ensure your team is performing these and all other daily checks using technology. A digital checklist software, such as Compliance by MAPAL enables you to transform your daily routine from a laborious paper-based task into a quick and easy mobile app.
Your team will have everything they need in a simple checklist on their mobile. They'll spend far less time on administrative tasks and much more time with your customers. And you can guarantee that energy is being consumed more responsibly in your venues, reducing energy bills and adding to your sustainability targets.
Becoming more energy efficient in the future
So far, we've talked about actions that will help you reduce energy costs right away, but it's essential to plan for the longer term. You can do many things to guarantee reductions and savings in the future.
Lighting:
LED bulbs last up to ten times longer than ordinary bulbs, even though they produce the same amount of light. That means you could reduce the amount of electricity you use by 80%.
Movement sensors also save energy, ensuring lights are only activated when used. Similarly, daylight sensors will only activate your lights when there is insufficient natural light. These sensors can save between 30-50%, according to the Department for Business, Energy and Industrial Strategy.
Heating and air conditioning:
Heating and cooling equipment will perform better if you keep them clean and regularly serviced. And by using timers or automated heating systems that adjust to the weather, you could save significant energy.
Considerable amounts of warm air are expelled from kitchens, but you could recover up to 50% of this heat with the help of heat recovery devices.
Ventilation
Ventilation systems are responsible for up to 15% of energy use in commercial kitchens. But you can optimise this by using a variable speed drive (VSD), setting fan speed to match requirements at different times of the day.
Demand-controlled kitchen ventilation (DCKV) systems use temperature sensors that detect incremental temperatures, adjust fans accordingly, and ensure sufficient ventilation for staff.
Kitchen Appliances
Ideally, you should replace any piece of equipment over 15 years old with newer, more energy-efficient models. The cost savings over its lifetime can far outweigh the initial cost of buying new equipment graded by the European A to G rating system.
Conduction hobs are also worth considering as they convert 80% of their energy into heat for cooking, compared to the 40% converted by gas. This could mean savings of up to 70% in your running costs.
Keep track of your energy usage
Check your meter readings at the end of each month and compare them to your energy bills to ensure they're accurate. Ask your energy provider to install a smart meter so you can track your energy usage in real-time. Sub-meters can help you measure your use of a particular activity, area or appliance.
We hope you've found these tips for reducing energy costs useful. Now is the time to spread the word to your team and ensure they put them into practice.
You can share our free energy-reducing learning resource with your team – even if you're not a Flow Learning customer. Ask us for access; we'll be happy to help you.