How to manage restaurant staff: improve your day-to-day team planning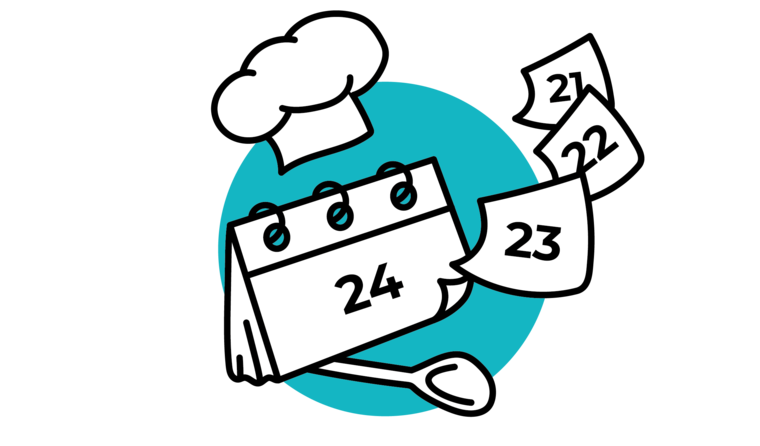 As a hospitality manager, one of your main objectives will be to ensure you always have the right staff on hand. But staffing and scheduling are just one of the many aspects involved in effective hospitality management. So, we've compiled some tips on how to manage restaurant and bar staff easily and effectively while optimising labour and prioritising your team's satisfaction.
We'll also look at why efficient shift scheduling is vital in keeping your teams happy and increasing productivity and show you what tools can help you achieve it.
What exactly does team planning involve in restaurant and bar staff management?
Team planning and scheduling are among the most complex tasks that restaurant managers deal with daily.
And you're probably very aware that restaurant and bar staff management involves more than just creating schedules. In fact, restaurant managers have a lot more on their plate (literally). There's attendance tracking, maintaining internal communication, dealing with holiday and leave requests, juggling employees' shift preferences... The list goes on.
These are just some of the tasks managers have to take care of daily, and sometimes they can take up the best part of their day.
Surprisingly enough, many managers still rely on rather primitive tools, like Excel spreadsheets which can be hugely time-consuming.
We all know that time is money, but that's not the only reason Excel isn't the best option for restaurant planning. For starters, it doesn't enable automatic schedule creation, it's nonintuitive, it often leads to human error, and it certainly doesn't use algorithms to create optimal schedules.
Luckily, today's technology can do all the above and optimise team planning for you.
How to optimise team planning in restaurant and bar staff management
The best restaurant management advice we can give you is this: invest in technology to optimise your processes. It is, without a doubt, the best way to increase productivity, save time, create transparency in the workplace and schedule shifts in real-time, based on your business' needs.
Many hospitality companies have implemented team management solutions, like Workforce by MAPAL, and have seen for themselves how they can simplify management processes and optimise shift scheduling based on real data.
Besides saving time, tools like Workforce enable you to stay compliant and save significantly on labour costs by considering factors such as scheduling laws and employees' personal needs.
Agility and flexibility: crucial to cope with change
Managers often need to handle last-minute issues, such as unexpected sick leaves or sudden peaks in demand.
Situations like these call for immediate decisions that directly affect your teams. Team planning tools such as Workforce enable you to make quicker, more informed decisions at the last minute.
The software automatically analyses your team's availability and skills and suggests the most suitable employees so you can fill last-minute gaps quickly and easily. Employees receive last-minute shift offers and respond through the app so that managers can assign shifts in no time. No need for lengthy approval processes.
Not only that, but employees can also communicate sick leave on the go, upload authorisation forms and other documents, and request and get approval on days off as quickly as possible.
This independence contributes to a more positive experience for everyone. Employees can enjoy a better work-life balance, which, in turn, increases their satisfaction and commitment to the company. It also makes the manager's job easier in maintaining organised yet flexible team management.
The key? Scientific data to optimise real-time scheduling
Workforce forecasts sales for shift scheduling by optimising resources and considering historical demand data. It conveniently displays the information broken down into 15-minute intervals.
The software carries out scientific analysis to help you identify gaps in demand and spot operational and business opportunities by using algorithms based on historical data.
And to make team planning even easier, all this information is available in real-time through an advanced reporting platform that managers can access from any device.
This next-generation technology proves how hospitality software can increase productivity, reduce costs and significantly improve employee and manager satisfaction.
Let's take a look at a real case:
KFC's restaurant planning goals: reduce labour costs and increase revenue
When sales increase and your restaurant planning software just can't keep up, it's probably time for a change. Growing businesses need tools that will support them to increase productivity and simplify shift scheduling.
That's precisely why restaurant chain KFC Spain implemented Workforce. Franchisees can now enjoy more transparency and control over their teams remotely and across multiple sites.
Almost all (97%) of KFC Spain restaurants use MAPAL Workforce technology and its industry-leading scheduling tool. As a result, the brand has achieved a 2.9% increase in productivity and a 2.65% decrease in labour costs.
Productivity has never been better at our stores, thanks to the precise optimisation models created by MAPAL
Restaurant and bar staff management technology to simplify and streamline tasks
Previously in this article, we talked about the many tasks managers must deal with when it comes to scheduling and team planning.
This next section will break down the specific benefits of implementing team management tools like Workforce by MAPAL. See for yourself exactly how they can save you time and simplify tasks:
| | |
| --- | --- |
| Tasks managers have to deal with: | How Workforce can help you: |
| Managing employee life cycle | Simplifies processes like hiring and time-off and leave requests by centralising all data and enabling remote access. |
| Time and attendance | Enables employees to clock in and out using their fingerprint, magnetic cards, codes, apps, dynamic QR codes... |
| Automatic schedule optimisation | Creates perfect schedules based on historical data, preventing under or overstaffing. Vital to reduce costs. |
| Setting labour budgets | Provides reports to indicate the exact cost per working hour. |
| | Measure your employees' satisfaction before and after their shift with quick app surveys. |
| Labour quotas | Provides data on working hours for each labour market according to local laws. |
| | Integrates easily with your existing tech solutions, such as SAP or Sage so that you can access their information at the click of a button. |
We know that the hospitality industry is highly dynamic, and managers must quickly adapt to changes in demand and make decisions on the spot.
Investing in tools like Workforce is the key to effective hospitality management, as it simplifies processes, creates optimal schedules, and takes the burden off team planning. All the while helping you save time and costs and ensuring you stay compliant.
And lastly, for both your and your employees' convenience, the tool enables you to make changes within minutes, providing flexibility and transparency for everyone.
Want to find out more? Click here to get in touch and start creating perfect schedules every time with Workforce by MAPAL.