7 Ways to revolutionise your shift planning with Workforce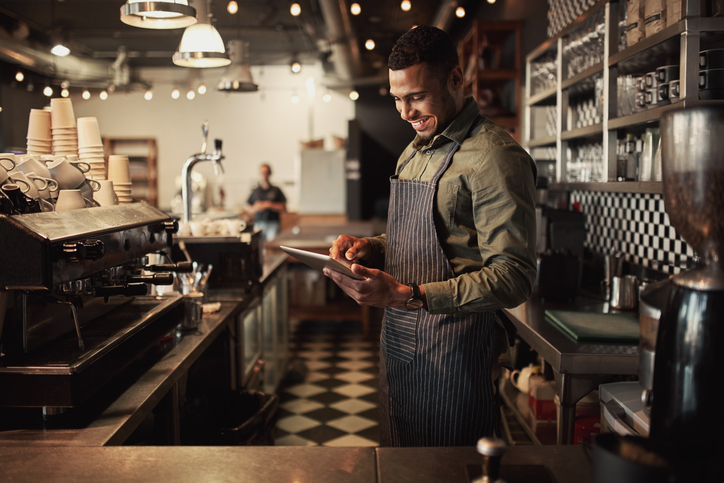 In hospitality, scheduling the right people in the right places at the right time is harder than ever. Recruitment is a challenge; now, employees desire more flexible working hours and wages are rising. And you're probably spending way too much time trying to solve this never-ending shift planning puzzle.
The good news is, there are a number of ways to lighten your workload, however tricky it may seem. Reducing the time you spend on administrative tasks, rota planning and recruitment due to high turnover is possible.
In this blog, we're going to look at seven of the ways that Workforce by MAPAL hospitality shift scheduling app can help revolutionise your management work schedule and increase employee happiness.
1. Generate work schedules in seconds
Workforce by MAPAL uses powerful algorithms to generate instant shifts based on past sales data. The tool analyses this data to predict accurate future labour requirements, optimising restaurant productivity and reducing labour costs.
Mangers can generate schedules in just a few clicks, using Workforce's labour deployment templates that help them make the right staffing decision and improve service.
2. The right people in the right place, at the right time
Workforce integrates with your other HR tools, enabling you to schedule team members to the right roles based on their skills. This makes rota planning so much easier and you can be confident that you not only have all bases covered, but by the best people for the job.
Our hospitality shift scheduling solution will only select staff who are available according to their work contracts. So, you don't have to worry about part-time staff being allocated hours over the legal limit or pay for unnecessary overtime due to inefficient rota planning.
Workforce also enables you to offer more flexible working hours to your team, as it can take their preferences into account when generating schedules. And all of this improves employee retention in the long run.
3. Fill last-minute availability with Shift Finder
We've all been there. Someone in your team calls to say they can't make it and you have to drop everything to find a replacement.
Workforce's new Shift Finder feature enables you to push available shifts out to selected employees instantly. They receive the extra shift offer on their GIR Staff app which they can choose to accept or reject, which in turn generates an instant notification back to you.
Not only does this reduce stress and save time when rota planning, but Shift Finder also gives you're an overview through rota status reports and visibility of all available, accepted and rejected shifts.
4. Optimise all your sales channels
By using powerful algorithms based on past sales data, Workforce can also deep dive into how each sales channel performs at any time. This gives you valuable information about the peaks and lows of onsite diners, delivery, takeaway, and any other channels you are operating.
In a nutshell, Workforce crunches the data for you and suggests where to allocate more resources during the time of day, day of the week or month.
5. Create work schedule that reduces labour costs and improve restaurant productivity
Our labour optimisation engine tool enables you to track labour costs and produce optimised work schedules that help you stick to you budget. The overstaffing resulting from poor scheduling is one common reason for high labour costs. Read how the Fitzgerald Burger Company reduced overstaffing levels by 21.8% through the Workforce management tool.
Area managers can also deploy customised deployment templates, making store managers' lives much easier.
Its team management features enable you to plan and optimise holiday and seasonal staffing well in advance, giving you more time to complete your team, ready for high season.
Workforce also helps you manage your timekeeping process, absence and leave reporting, lateness, and contracts, leaving managers with more time for the team and guests, and with a lot less paper.
And of course, next generation reporting tools crunch the data for you, providing insights for better decision making in your business.
You can read more productivity hacks for the day-to-day running of hospitality businesses here.
6. Seamless rota planning for cross-border and international sites
As Workforce is a multi-language hospitality shift planning platform, it works equally as efficiently in all countries where your brand is represented.
And as different regions and countries may have their own labour regulations, labour quotas, variable pay and bonuses, Workforce can handle that automatically too. You can, of course, make manual adjustments when you need to.
7. Increase employee happiness and retention
Last, and by no means least, using Workforce by MAPAL means you can offer your team the flexibility they need to ensure a good work-life balance.
Through Workforce's employee app, GIR Staff, they have total transparency over their schedule and the ability to request absences or leave from their mobile phone. What's more, they receive approval and notifications much faster, enabling them to make the arrangements they need.
An understaffed team is a stressed one. Optimising your shift planning means you can avoid understaffing and the employee dissatisfaction it creates. And when the unpredictable happens and you do need to fill extra shifts, your team also have the choice to earn extra cash if they need it.
All in all, workforce management software encourages team collaboration and support, creating a greater sense of belonging. The result is employee happiness and improved employee retention, vital ingredients for any sustainable business.