Boost hospitality recruitment 2023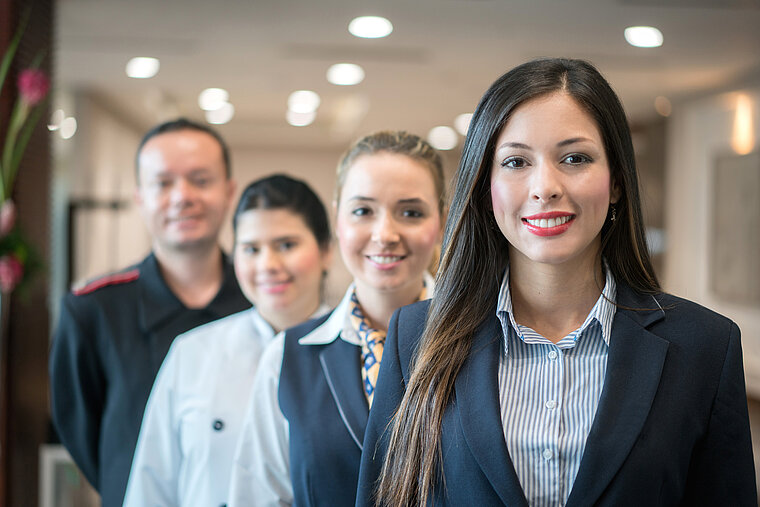 Hospitality recruitment continues to be a major challenge for the hotel and restaurant industry. In fact, it was estimated that, in June of this year, 16% of positions were still vacant in our sector. Even so, people are at the heart of the hotel and restaurant business and are a crucial part for business to run smoothly.
In this post-pandemic era and with the added complications of Brexit, the recruitment crisis poses various questions: How to recruit effectively in the hotel and catering industry in 2022? What strategy should we use to attract and retain talent in the sector?
In this article, discover all our tips for effective recruitment in hospitality to help you meet these challenges.
Focus on flexibility to improve retention and recruitment in hospitality
While a few years ago the issue of salary was the predominant factor in hospitality retention, new priorities are now at the top of the list when it comes to retaining employees.
Flexible working hours
According to our June 2022 survey of 30 hospitality companies, flexible working hours are as important as salary, being revealed as the main factors with greatest impact on employee retention.
Working unsociable hours, such as very early in the mornings or late nights, can quickly take its toll. So, addressing the work-life balance is a good way of attracting candidates: for example, by offering a flexible working schedule with rotating shifts. You can do this by using scheduling software such as Workforce, which uses algorithms to create schedules and optimise your team's schedule.
Use extras to perform certain tasks
In order to relieve your teams, it is quite possible to use extras. Hospitality recruitment agencies such as Stint provide access to a pool of qualified talent for certain tasks. When it comes to specific, one-off assignments, an employer can simply go to the application to access available profiles.
This is a win-win situation: the candidate is offered an assignment that matches their availability and skills, and the employer benefits from a quality service without having to spend long hours looking for the ideal profile.
Adopt new approaches to hospitality recruitment
Encourage training and career development
Knowing how to recruit for the hospitality industry also means putting yourself in the candidates' shoes. This is particularly important for frontline jobs which are often lower paid and more tiring than others. Staff turnover rates are higher, and it may be worth offering career paths and training for people who want to move up in the sector.
Providing opportunities for growth with well-established and communicated career paths will increase employee satisfaction and improve hospitality retention as a result. Sometimes giving everyone the chance to grow and recognising the commitment of employees can make all the difference.
Enhancing your employer branding
The best advice on recruitment in hospitality is to think about what concerns candidates the most. Employees are increasingly looking for companies they can identify with. Investing in CSR and highlighting certain actions, such as commitment to causes like ecology and support for charitable organisations, can help a brand to achieve a positive and attractive image.
And in a context where employee satisfaction is paramount, candidates are likely to be drawn towards companies with a caring management style that matches their expectations. A strong and positive corporate culture will not only retain existing employees, but also attract new recruits.
Harnessing technology for recruitment in hospitality
Data is key for successful recruitment in hospitality in 2022, and that's where technology comes in!
Improve the onboarding process for new hires with digital
First impressions are crucial when starting a new job, and one of the most important elements during those first moments is staff training in hospitality. This will determine how quickly and effectively a new hire will be able to perform all his or her tasks. Implementing a digital learning platform such asFlow Learning will reduce training time and increase efficiency. With this tool, managers can create or customise training resources and digitise existing paper-based materials.
Encourage employee recognition
Employee recognition is about encouraging employees by highlighting positive behaviours, whether professional or personal. Recognition is often given from manager to employee, but it is also desirable to encourage recognition between peers in order to foster team spirit. This is a great way to motivate teams to perform at their best, while creating a caring and supportive work environment. Solutions such as Engagement by MAPAL fit perfectly into this logic, using an intuitive application to improve internal communication and enables teams to show recognition of outstanding colleagues. So, technology can be a very effective way to help you succeed in your recruitment in the hotel and restaurant industry.
You can read more in-depth insights and expert advice in our new whitepaper,Competing for hospitality when canidates are scarce. And If you'd like more information on how MAPAL suite of hospitality solutions can help you improve your hospitality recruitment and retention strategies, talk to our team.