61% of returning hospitality workers are unclear on safety issues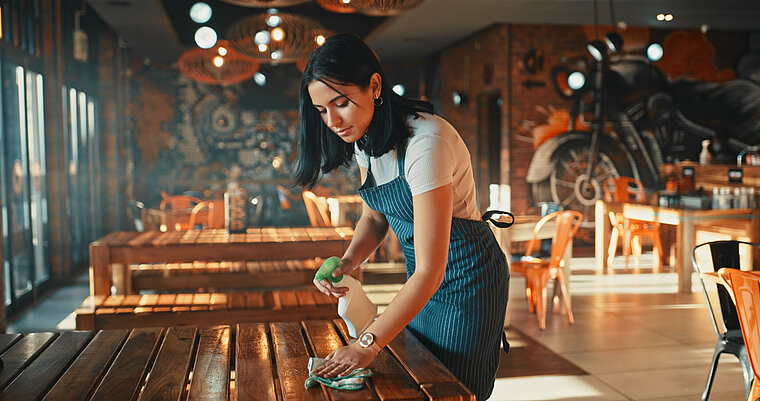 Flow Hospitality Training has revealed the knowledge gaps of hospitality workers returning to work from furlough to safely reopen their venues.
The company launched six Covid-19 comeback online training modules earlier this month, designed to help reassure hospitality workers returning to the workplace and to help managers ensure their venues and teams are compliant with the changing work environment. So far the modules have been passed 85,000 times.
Hospitality workers struggle with safety and cleaning standards
Testing records reveal there are clear patterns emerging around the gaps in knowledge of returning workers, that operators need to consider to be safe and compliant when reopening.
The most pronounced area where teams struggled was around understanding how they could help keep customers and colleagues safe, with 61% of workers being unable to correctly identify useful steps. The next biggest gap was in the basics of effective cleaning standards, with 22% of workers needing refresher online training. While 17% were unsure how to best re-engage with their colleagues again returning to work.
Elly Johnston, Director of Flow Hospitality Training says
"Testing records reveal there are clear patterns emerging that operators need to consider when reopening safely and avoid any reputational damage. Customers are going to be on edge returning to hospitality and teams need to be confident in both returning to work themselves, and to proactively keep their colleagues and customers as safe as they can. This is particularly important given the Prime Minister's announcement of a 4th July reboot for venues in England, as time is very much of the essence."
Free access to comeback training modules for hospitality businesses and workers
Flow Hospitality Training customers have free access to the new Covid-19 comeback modules with focus on safety and cleaning standards, whilst new clients are being onboarded quickly to help them prepare for these new challenges in their businesses.
The company has recently signed new agreements with Dishoom, The Cornish Bakery, Hall & Woodhouse, Incipio Group, and Bettys & Taylors of Harrogate.
Unique hospitality industry online learning content from Flow
Flow Hospitality Training is the UK's leading provider of digital hospitality training with unique industry-specific content and a proprietary learning management solution.
The business delivers learning to over 516,000 unique users from a portfolio of over 900 clients in the UK, Europe, Middle East, USA & Australia.
The business was acquired by Providence Strategic Growth in December 2019 and is now part of a suite of solutions offered by the business with MAPAL Software.