The ultimate guide to maximising sales for your cafe or bakery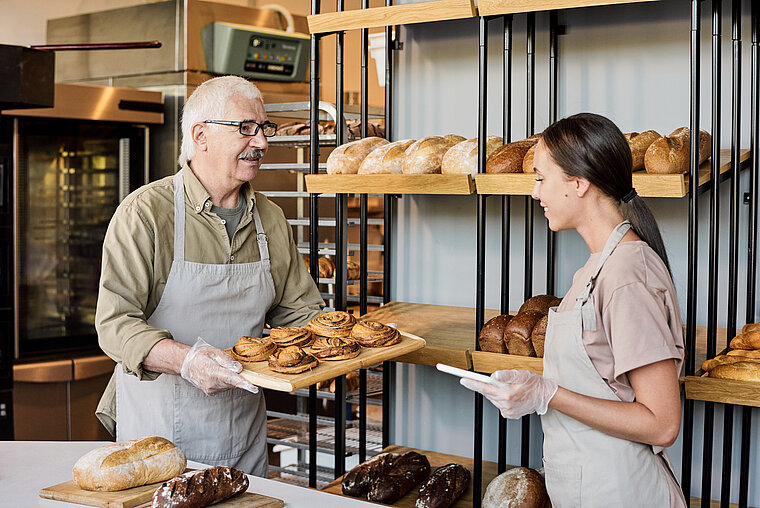 Getting the most from our cafe and bakery sales is a constant challenge, especially with rising costs. It can be hard to know how much to order to satisfy customers, because the last think you want is to waste food, right?
If you're reading this, you're in the right place. We spoke to seasoned owners, regional, and store managers across cafes and bakeries of all sizes to learn about their top tips on how they have been able to maximise sales for their stores.
What does it mean to maximise cafe and bakery sales?
First things first. What does it mean to maximise sales for your store?
Simply put, maximising sales for your store means earning your store's full profit potential. This involves evaluating whether you're losing on potential sales on anything from:
Failing to create an optimal customer experience in-store
Stocking products that are out-of-sync with your customers' preferences
...to:
Selling out too early and losing out on potential sales for the rest of the day
We'll tell you exactly how to tackle the issues above - and more in order to help you with maximising your sales for the coming year.
Stick to your brand vision
After speaking to several store owners, many pointed to the importance of sticking by your brand's vision, no matter how hard times are. It's important to constantly evolve, but never stray too far from your original vision for your cafe or bakery.
Ask yourself the questions: what is the reason we are bringing our products and services to our customers? What sets us apart?
Take it from Abelene, who co-owns BNB Bakeshop with her husband, Rev. BNB Bakeshop is an upscale, Japanese-inspired bakery concept in Oslo. Ramen had only recently become a popular food in Norway during the past few years, so the idea of opening a bakery selling primarily white, Japanese bread and baked goods in Oslo was a far cry from a "safe" concept to bring to the Norwegian capital. For most Norwegians, pastries are a treat, and bread that is not made from whole grains or rye is often perceived as unhealthy.
For Abelene and Rev, taking a bet on their very specific vision proved to be a huge success. From day one, they identified a gap in the market that resonated both with their environment, skills, and passion. Rev is a chef by profession and had been stationed in several embassies in Asia, and had a clear understanding of Asian cuisine and baked-goods palette.
Having lived in Oslo for more than 10 years, Abelene and her husband had noticed over the years that a lot of food trends in recent years had been Asian-inspired, and took the chance to jump on the opportunity to introduce Asian baked-goods to the market - an unprecedented concept in Oslo.
As the only Japanese concept bake shop of its kind in Norway, locals and tourists alike flock to BNB to get their hands on Japanese-style baked goods. Abelene cites this as their primary reason for opening a second shop in Oslo's city centre, in order to accommodate more customers visiting BNB as an attraction in Oslo.
The vision you have for your store is the backbone behind your brand and how your customers - and potential customers perceive your store(s). Having a firm and consistent vision that is reflected in your products, customers service, space, and more is one of the easiest ways to sell your brand - and your products.
Product selection for your cafe or bakery
Your store's product selection is crucial to your store's identity. Customers are enticed to enter your store based on the sight – and smell – of neatly arranged and freshly-baked loaves of bread and pastries. Ensuring you stock a good range of products is therefore vital to increasing numbers of customers and sales.
You've got your staple products - ones that your customers know and love you for, and then there are the ones you add to the mix to prevent what is referred to as "menu boredom". Be it seasonal products, limited edition products, or trendy "hype" products, occasionally your customers need to see that you have the ability and room to innovate lest they decide to visit another store altogether.
But knowing what to introduce to your daily mix can be tricky. Which "latest trending pastry" fad should you hop on? Where can one find inspiration for new products? For BNB, product innovation comes from Abelene and Rev's travels around the world. They find inspiration from new places they've travelled to and the new foods that they encounter.
Listen to your customers, too. Have a new product on the shelf? Ask your customers for feedback - whether it's through social media, a feedback form, or even in your cafe or bakery itself. Not hearing anything directly from customers? You can often get a clear idea as to whether they like a new product by analysing your sales numbers. Take a look at sales for the new product after a month. How is it performing? Is the product worth keeping for the long-run?
Upon introducing a new product to your shelves, it's important to give your customers a little nudge towards the new product. Whether you promote it on a sign, on your menu, spotlighting it on your shelves, or simply upselling it at the till - new and even revisiting customers alike may need some help guiding their eyes (and noses) to your new product.
Knowing where to place your products is also key. Placing products close to the till is a surefire way to ensure the products will be sold. If a product is placed by the till but isn't being sold, reevaluate why the product is not selling whilst placed in such a lucrative position. Is the product name misleading? Does the product's appearance match its taste?
Marketing your cafe or bakery products
Make sure you provide accurate information about your products (new or old) such as key ingredients, potential allergens, or where the ingredients were sourced. It's not only a legal obligation, but it can also help customers make better-informed decisions when choosing which products to buy.
Consumers are becoming increasingly conscious of whether a product is made of healthy and premium ingredients that are locally sourced. Customers are increasingly willing to pay a premium for products that can bring them value for a good quality product.
For cafes and bakeries, this is good news. Advertise your use of premium ingredients, the hours of handiwork that have gone into creating your baked goods, and the local farm that you source your ingredients from.
You can easily showcase this on social media, for example. Use your storytelling skills by writing about the journey of your ingredients from farm to store, or showcase the stories of the owners of the farm and the bakers crafting the pastry. This can be in the form of long-form text on a blog post, or through an Instagram story, or even a video short on TikTok. The sky is your limit.
Don't have time or the manpower for a convoluted social media post? Simply create a physical sign to be placed in your store. Customers waiting to be served can then have something interesting to read whilst they wait in line, all while understanding the origins of their purchase.
Avoid selling out too early with our bakery app
We've said it more than once, and we'll say it again. Selling out too early is one of the biggest reasons why you are not making your profit potential.
You probably already know this. When a product often sells out early, that is usually a sign that you are under-ordering. Your supply for this product is simply not meeting the demand your customers have for this good. When you sell out of a product early, you essentially lose out on the extra profit you otherwise would have made had you just had more of the product on hand.
Consider ordering larger quantities of this particular product. Either order in slightly bigger quantities incrementally to ensure you're not risking over-ordering and ending up with too much, or analyse your sales data to better understand how much you should actually order based on how much you have sold previously.
Many store managers we spoke to mentioned that it was really important to prevent selling out too early - and most attempt to fine-tune their ordering based on gut-feeling developed from years and years of experience.
See how store managers using Savvie, our bakery app, were able to reduce both cost and food waste by placing accurate orders.
People: enhancing the cusomer experience
Your products and your physical store are part of what makes up the general experience of your store, but arguably one of the most important parts of the mix is the people you hire. Your store staff and managers bring the human touch to your store's experience. Failing to provide a good, personable and agreeable experience in your store will hardly bring back customers no matter how good your products are.
The owners and managers we spoke to gave us plenty of great insight on how to hire and train the best employees, helping you to bring out the best-in-class customer experience to your store. Providing the best customer service in your store can help with customer retention and, ultimately, customer lifetime value. Simply put, when you put more effort into providing great customer service, customers are more likely to return, and even bring their friends and family along - earning you more profit in the long run.
Hiring in the cafe and bakery sector
One of the biggest challenges, post-pandemic, in the cafe and bakery business is hiring new employees and having enough helping hands in-store. During the pandemic, many bakery and cafe employees who were furloughed or laid off simply found other sources of income.
We talked to regional manager Dan from Grains Bakeri who gave us a few tips on how best to attract new talent in a difficult labour market. For Dan, attracting new talent - young and old has been his saving grace for combating the hiring difficulties of today's labour landscape.
Putting out old-school fliers and recruiting locally is one of the easiest ways to get applicants, especially if your location is not a particularly central one.
"You already know that these candidates frequent this area," says Dan. Posting and re-posting job ads on local Facebook groups is also an effective way to attract applicants, whilst really being able to foster a sense of community at the same time.
An interesting tip we got from Dan was not to be too picky or specific when it comes to the desired age range of applicants. At Grains, they are very positive about recruiting from the full spectrum of ages. This was particularly useful after the pandemic.
As more experienced office workers got sick of their office jobs - and thanks to the pandemic - the isolation of working from home, the prospect of working at a cafe seemed more appealing to more middle-aged applicants than ever.
Attracting the right talent
All hiring managers we spoke to emphasised the importance of understanding the more personal and human side of candidates before making a decision on the candidate.
After all, with such an interpersonal job with only a handful of colleagues in-store, speaking to a candidate to understand their working style, personality, and work ethic is crucial. However, many cautioned that it's not simply about finding the right cultural fit, but somebody who is willing to roll up their sleeves and can also be a cultural asset.
Store manager Katie from Åpent Bakeri lamented the difficulty in finding employees who were both experienced and motivated to work in a fairly demanding environment such as a bakery or cafe.
Many managers found that during the hiring process, finding a motivated employee and an experienced one were almost mutually exclusive. Candidates who had both qualities were easily snagged by other cafes or in higher-paid positions elsewhere.
For Katie, her first tip for hiring the best talent on her team is to always ask why they had decided to apply for that particular position and store.
Many candidates often cite their perception of working in a cafe as a fun or idyllic job as a reason. But for Katie, this sounds alarm bells and indicates the candidate is applying for the idea of working in a cafe, and may not be ready for the harsh realities of working long hours in the service industry.
Noticing whether a candidate has bothered to submit a cover letter is also a good indication to Katie of the candidate's motivation behind applying.
"At least two paragraphs, you know, they could make easily make the effort. Maybe five to six sentences, it doesn't have to be a lot. I like it when they include a little bit of personality, a little bit about their experience, or other things that could help them in the role."
"Stress Test"
Before fully extending a job offer, many stores invite candidates for a test run in-store to get a true sense of how they work in the physical location.
"It's sink or swim," Dan says about candidates during the trial run. To Dan, a trial run allows you to observe what is intuitive to the candidate and how much training they'll need.
"It's a stress test," says Dan, "you wanna see if somebody freaks out." Many candidates have a "romanticised" picture of what it's like to work at a cafe based on their experience as a customer. But as an employee, "you're on stage - there's a queue and people expect you to go fast."
The trial run gives you the opportunity to see how a candidate can handle a difficult customer, too.
"Most people are awesome, but some people suck," it's about finding the kind of candidate who can face up to the challenge of handling a more challenging situation that stands out from the crowd.
Sometimes, within a matter of 15 minutes into the trial run, Dan is able to spot a star candidate: "then you know straight away that you want to lock them in. They're good."
During the trial run, managers like Dan are also able to spot candidates who will be particularly motivated to do the job. As Dan puts it, "it's a passion industry" - you have to really love it to stay in the service industry for the long run. It's not only a tough job but there's also more money to be made elsewhere.
To Dan, the tells of a candidate who is unsure of whether they like the job shines through straight away. "They're uncertain, they're shaky on the spot", or simply seem like they don't want to be there. "You can only fake it for so long," muses Dan.
Finding the right candidate can often mean being able to hire more employees based on good candidates' referrals, too. Dan's lucky streak saw one star candidate bring in three other friends who were of a similar calibre.
New hires who enjoy their new work environment are likely to recommend their friends to join the same store when there are open positions. It's a win-win situation, friends get to work together, and the employer has more (and happier) manpower.
Upselling and cross-selling
One of the biggest keys to maximising sales for your store is to make sure you are consistently upselling and cross-selling products to customers. You definitely can't expect to be upselling or cross-selling to every single customer, but the important thing is to genuinely try to understand their needs and match that with a product you know will both generate more sales and benefit your customer. Training is key to ensure your team's product knowledge and customer service skills are up to date to maximise sale in your cafe or bakery business.
Upselling
Upselling is essentially selling a product that is more premium than the one your customer has their eyes on, or has already purchased. Upselling can come in many forms and can take place in different situations.
Example of upselling:
A customer is at the till with a plain baguette. You can casually mention that the bakery has just come out with a limited edition, freshly-baked sourdough baguette and see if that piques their interest.
Sowing this little seed in your customer's head may end up with you earning more than you would have if you'd just accepted their buying the plain baguette.
The key to upselling is to never be pushy about it. As with selling in general, the most important thing to keep in mind is to always keep your customer's best interest in mind.
Is the product you're upselling actually going to benefit your customer? And if so, make sure your customer is aware of the benefits that the product will bring them.
Talk about how much more texture the sourdough baguette will have compared to the plain baguette. Suggest a few foods or condiments to pair the sourdough baguette with.
Cross-selling
Cross-selling is a sales strategy that involves selling additional, related products to existing customers.
Example of cross-selling
A customer orders a coffee at the till. A simple way to cross-sell is to ask if they'd be interested in also buying a little pastry to accompany their coffee.
Cross-selling also doesn't necessarily have to happen at the point of sale. A simple way to cross-sell is to place related goods together in your store.
For example, if you happen to sell coffee beans in-store, place these next to the handmade espresso cups or french press makers in one section. Similarly, put all gluten-free pastries in the same area - customers who require with gluten intolerances can then easily see which products they can safely eat.