Your complete guide to efficient hospitality team management
Managing hospitality teams efficiently involves more than just finding the perfect schedule. It means taking into account several internal and external factors that affect the industry and hinder decision-making.
Firstly, there's high staff turnover, low retention and seasonality (as well as weekly and daily demand fluctuations). Dealing with these issues can be hugely time-consuming and often means less time to invest in learning, development and hospitality team management.
And on the other hand, we have to tend to our employees' well-being too. It's vital to consider their preferences regarding timetables and working days, as some employees may be juggling studies with work or have children, for example.
Neglecting these factors can hugely increase recruitment costs, lower productivity and result in under or overstaffing. The latter will directly affect your profits and customer satisfaction.
So, it's essential to find solutions that help you optimise tasks and free up your time to focus on your priorities. And today, thanks to technology and digitisation, this can be a lot easier than you may think.
This e-guide looks at how digital solutions can help restaurants, bars, coffee shops, hotels and other hospitality businesses. Find out how technology can help you manage your teams more efficiently and give you time to focus on what's most important: your team and your customers.
Discover how you can manage your hospitality teams more efficiently.
How to hire restaurant staff and ensure an efficient hospitality recruitment and onboarding process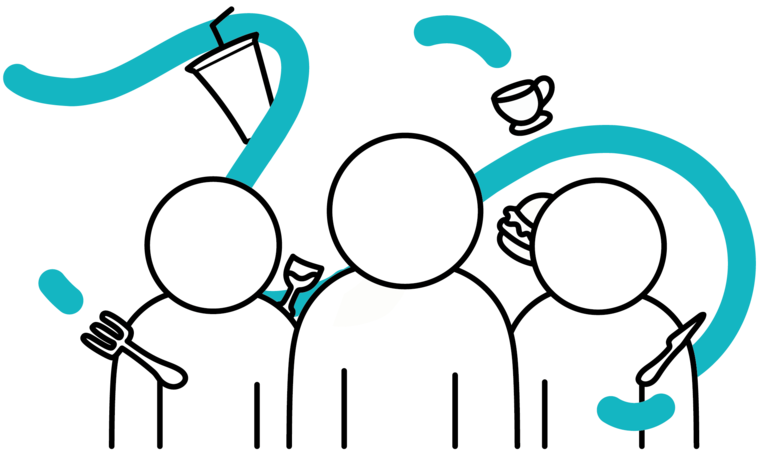 The importance of a smooth restaurant recruitment process
When hiring restaurant staff, considering salary investment and the time and effort involved in the whole process is key.
To fill vacancies quickly and find the right people for the job, you need to match your main priorities and needs to the profiles that best meet them.
But why is investing in a smooth recruitment process so important?
Putting the wrong person in the wrong role can waste money and increase recruitment and learning costs. Industry experts estimate that cost per hire is around 25% of an employee's average annual salary.
But that's not the worst of it. Employees that don't adapt well to their role or the company can harm the business and its reputation in the long run.
It's fundamental to focus not only on choosing the right person, but also on offering candidates and new hires a positive experience from day one.
Your brand and how to be a candidate's first choice
If you want to promote your business' growth and be a candidate's first pick over other companies, focus on building a fan base for your brand, starting with your own teams.
The key is to maintain a connection with them from the very first day and make sure they have a strong sense of belonging in your company.
When employees feel connected and part of something bigger, they become true ambassadors of your brand. This can only happen if they get a good first impression and have a positive experience in your company.

How to make onboarding easier
Making sure new hires have a consistent and positive experience during their first days of work is the key to a smooth onboarding process.
Thanks to online learning platforms, such as Flow Learning by MAPAL, onboarding has never been easier and more effective, as employees no longer need to spend hours in a classroom to learn.
And that's not all. Learning Management Systems (LMS) simplify tedious but necessary first-day tasks, such as getting to know the company's teams and organisational chart and getting sign-off on company policies.
These platforms enable new members to access everything from one place and automatically gain access as soon as they start.
Levy UK, part of the Compass Group, managed to reduce their application to onboarding process from 20 to just five days after introducing the Flow Learning platform. Find out how they did that here.
The first 90 days: the key to retaining talent
Statistics show that if you can guarantee new members a positive experience during their first 90 days of work, they'll more likely want to stay, reducing turnover in your company.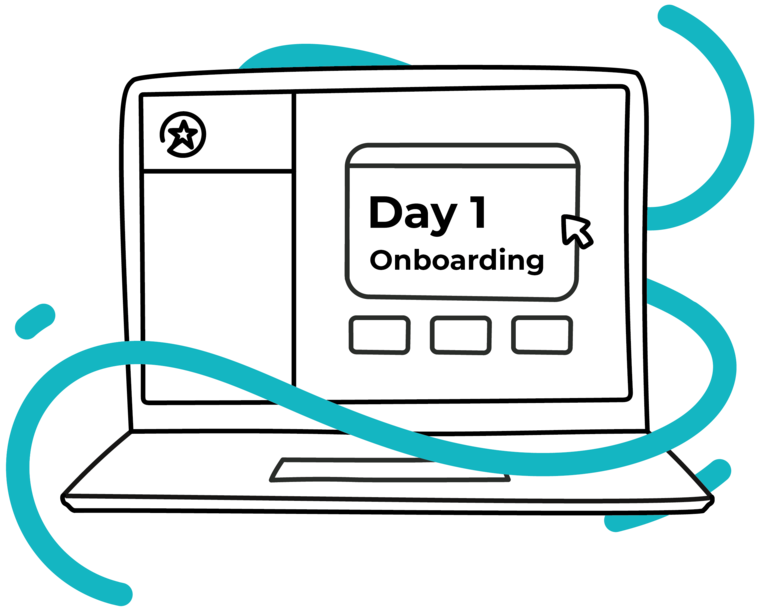 The ideal hospitality and catering staff training programme
New employees will need to learn a wide range of skills to work in your hotel or restaurant. However, training is often rushed and ineffective. In some cases, new hires even have to learn on the go.
Needless to say, this threatens quality standards and demotivates your new employees.
So, now more than ever, it's crucial to invest in a solid, high-quality learning program for your teams and new hires.
Thanks to online tools and their bite-sized, dynamic courses, you can provide your hospitality teams with an ideal training program that combines face-to-face and digital learning.
This blended approach to learning is far more engaging and effective, as it optimises training and better prepares your staff for floor work.
With Flow Learning, you can develop and offer individualised online training courses for a wide range of skills. From self-development and training for specific services, to covering skill gaps and ensuring employees understand the company and are familiar with current regulations.
Not to mention that employees must always be kept up-to-date with food, health and safety regulations.
By investing in a solid LMS like Flow, your employees can access dynamic, bite-sized learning modules anywhere and anytime, and all on a single platform.
Not only that, but Flow Learning enables you to add different modules according to your companies' needs:
Compliance Suite: for employees who work on licensed premises, in public-facing roles dispensing and serving alcohol, as well as those responsible for food or working in kitchens.
Service Suite: equip your staff with essential skills for providing excellent service in bars, hotels, coffee shops or nightclubs.
Management Suite: provide managers with key knowledge to run a hospitality business and manage a team efficiently.
Hotel Suite: resources designed to help your hotel staff deliver the best possible service.
Café Culture: learning modules created especially for staff working in the thriving café and coffee shop sector.
Trend Set: bite-size micro-modules to ensure your staff keep up with relevant industry trends.
COVID comeback: learning modules on cleaning and hygiene, looking after your customers, personal protection, preparing to reopen, service after lockdown, staying safe, takeaways and deliveries, your well-being.
Road to Recovery: includes Takeaway delivery and success, 4 ways to build revenue, Conflict resolution and a video: "Your smile shines through".
Flow Learning also helps you guarantee your teams stay compliant on-the-go, and ensures that everybody is up-to-date with hygiene and food safety regulations.
Learning and development is key to simplifying onboarding processes for new hires and retaining and building loyalty among experienced employees. It's also a crucial step in maintaining your brand's standards.
The key to retaining talent and supporting hospitality career progression
Retaining existing talent saves much more money than hiring new employees, as this article in Harvard Business Review points out.
Yearly spending per employee (around 775 euros on average) is still just a fraction of cost-to-hire (approximately 3,100 euros).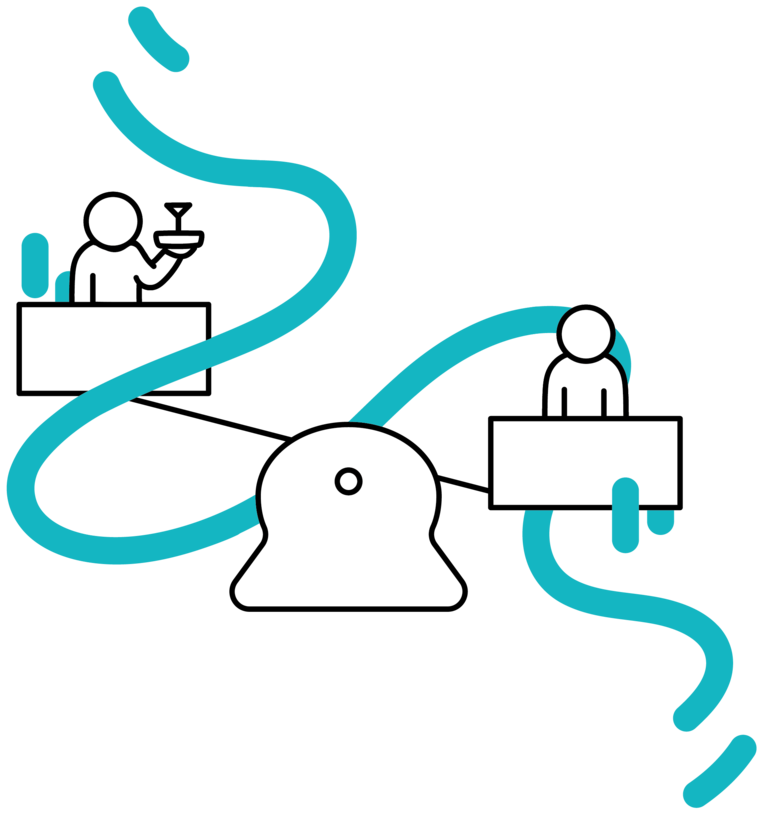 Solid training programmes promote staff retention, as employees feel more valued and motivated, have a stronger sense of belonging and are given opportunities for career development.
Investing in a hospitality LMS such as Flow Learning improves employee loyalty and helps you spot and retain internal talent.
Create career paths for each team member and their specific roles to identify and retain your high performers.
For instance, if a particular team member is interested in growing professionally or taking on another role, Flow enables managers to adjust their career path to meet their needs.
This talent strategy will help you cultivate and harness your internal talent.
To build employee loyalty, you need to offer more than just attractive working conditions. Employees need real opportunities for career development, quality training programs, a good company culture that promotes teamwork and initiatives to improve workplace well-being.

If you'd like to take a more in-depth look into employee well-being in hospitality, you can download our free whitepaper here.
In the white paper, you'll find insights, examples and guidance on how to improve employee engagement and look after your talent, and as a result, be able to count on them in the long run. You'll learn about:
The benefits of implementing a well-being programme for your employees
Best practices for implementing a successful well-being programme for your teams
Approaching employee well-being holistically
Real examples of how the biggest and the best hospitality brands approach employee well-being
Hawksmoor is a hospitality company that values its employees and invests in their well-being. The British premium steak restaurant chain has ten restaurants across the UK and one in the US, and was ranked in the top 100 Sunday Times Best Companies to work for during nine consecutive years.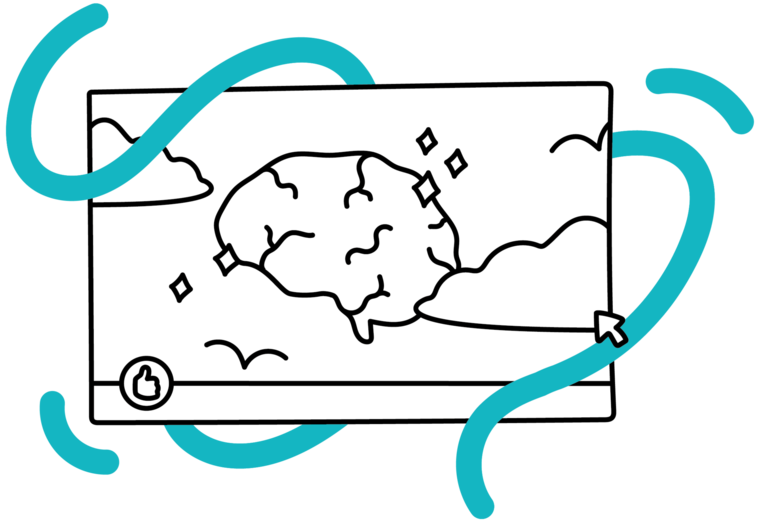 At Hawksmoor, we are using Facebook Workplace for our teams to communicate with each other. We have channels with different topics such as a health and happiness group, where, in addition to discussion, we also share relevant articles and materials about well-being"
Madeline Geach,
Head of Culture at Hawksmoor
Employees are, without a doubt, a company's best asset. If we look after our employees, they'll take care of our customers.
How to improve hospitality employee engagement through learning and development
As we've previously mentioned, improving employee engagement and offering a positive learning experience is the key to your hospitality company's growth. Here are some crucial aspects of L&D that will help you boost your business and retain your talent:
Communication channels: maintaining open communication channels, like those offered by Flow is vital. They enable communication between management and other teams, HR and employees, and between team members. Open communication promotes transparency, making everyone feel involved and kept up-to-date.
Career paths: A robust training programme should provide employees with the necessary resources and the confidence to offer customers the best possible service. It should also enable them to evolve towards management roles or even move to other departments or positions.
Bite-size learning: offering quick modules with short videos, little pieces of advice or checklists, as opposed to, say, a 45-minute video course, makes learning a lot more agile. Enable your employees to acquire the knowledge and skills they need, when they need them and as quickly and efficiently as possible.
Easy-to-use systems: luckily today, many online learning systems are available to help hospitality companies keep teams up-to-date with training. L&D is now faster, simpler and more accessible, with mobile apps that enable employees to learn on the go.
And one thing is for sure: LMS are here to stay.
Engaging content: thanks to technology, paper-based learning is now a thing of the past. Besides being intuitive, easily accessible and comfortable for the user, today's learning platforms provide more attractive and engaging content. Flow learning offers gamification features developed by learning experience designers.
Spotting and developing internal talent: investing in in-house training allows you to cultivate your existing talent. Show your teams how they can progress from a trainee position to a manager's role by following a clear career path within the company.
Brand training to foster belonging in the workplace: employees need a balance of learning contents and processes. For instance, you could arrange feel-good activities to increase your team's sense of belonging, such as group tasting sessions.
In short, a solid learning plan helps both companies and employees to:
Develop expert staff
Improve employee retention
Enhance service quality
Improve guest satisfaction
Maximise sales and profits
Team planning: How to improve daily team management and restaurant planning
Managers working in restaurants face a whole host of daily challenges daily.
Managing restaurant staff involves planning and delegating tasks, tracking time and attendance, internal communication, managing holiday and leave requests, and juggling employees' preferences when scheduling shifts.
And yet, surprisingly, many managers still rely on Excel spreadsheets despite being bogged down with so much admin. Not only is this time-consuming, but it also leads to human errors that can harm sales and increase labour costs.
The good news is that tools like Workforce by MAPAL help avoid mistakes, simplify team management and optimise your scheduling based on data.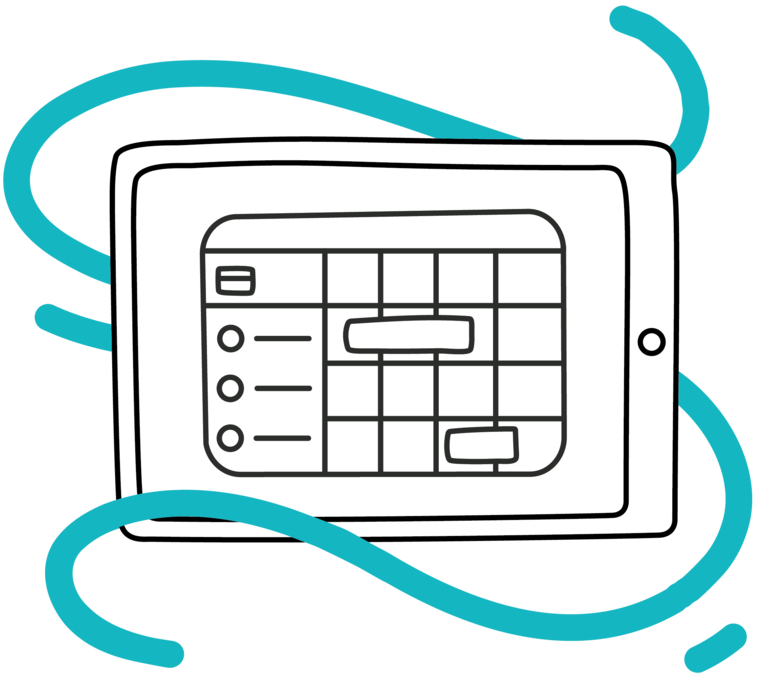 But Workforce's benefits go beyond just saving you time on scheduling. The software enables you to stay compliant while significantly saving on labour costs, by considering scheduling laws and employees' personal needs, among other key factors.
As for your teams, with Workforce, they can easily request time off and swap shifts with colleagues. No need to go through lengthy processes to get approval. As a result, your employees will be able to enjoy a better work-life balance.
Managers can comfortably oversee and manage teams on the go, reducing administration and rostering time.
What is time and attendance, and why is it crucial in restaurant scheduling?
Time and attendance, or T&A, refers to tracking employees' working hours and breaks by clocking in and out. Time and attendance systems automatically synchronise with your payroll software to save time and management costs.
But tracking time and attendance doesn't just end there.
On the one hand, tracking T&A is essential as it enables you to identify employee time theft: hidden labour costs resulting from employees getting paid for time they didn't work.
This means your company could be paying for time off the clock, either by employees clocking in or out too early or too late, taking extended breaks or rounding up working hours.
And on the other hand, tracking T&A helps you stay compliant with local labour laws and overtime limits.
Lastly, it's worth noting that T&A is an important feature for both remote workers and those commuting, as it enables them to track working hours and well-earned breaks.
How is time management in hospitality tracked?
Despite many hotel and restaurant managers still using paper and Excel spreadsheets to track hospitality time and attendance, it's known that such processes are inefficient and time-consuming.
Relying on manual systems has many disadvantages. For instance, they take longer to update, you risk losing documents, manual errors often go unnoticed, changes aren't easy to make, and on top of all that, it's hard to keep track of staff requests.
Manually carrying out these tasks results in slow processes that contribute to employee dissatisfaction.
The good news is that there are quick and efficient ways of tracking T&A, thanks to technology such as mobile apps, iris recognition, QR codes, among others.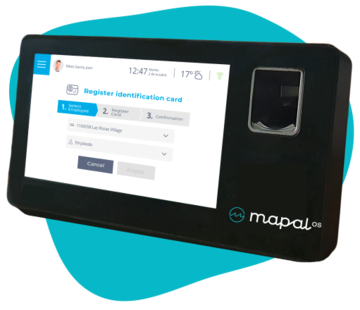 One of the most innovative technologies for employee time tracking are fingerprint readers. Developed by SmartHub, this technology enables your team to clock in and out with their fingerprint or via QR code through our app, and all on a single onsite device.
Why use a time and attendance system?
T&A systems are more than just automatic tools for employee time tracking. Their benefits go way beyond simply optimising slow, manual processes.
T&A systems also enable you to:
Increase employee responsibility, as they have to remember to clock in and out.
Reduce absenteeism and time theft (when employees get paid for time they haven't worked, by, for example, taking extended breaks or rounding up hours).
Improve safety
Reduce admin and human error
Stay compliant with regulations. For example, our technology prevents employees from clocking in before their shift starts.
One of the major advantages of T&A systems is that the apps are intuitive and easy to use for employees regardless of their technical skills and highly convenient for managers, helping to increase productivity.
Workforce by MAPAL also enables you to carry out work climate surveys. Managers can see how their employees feel before and after their shift, preventing problems before they arise and maintaining your team's satisfaction.
Restaurant staff scheduling
Too many employees on shift during slow sales periods or not enough during peak times is a sign of inaccurate or inefficient staff scheduling.
And what's worse is that both can harm your business. The first scenario reduces profit margins, and the second, compromises your customers' experience.
But we all know that scheduling isn't always an easy task.
Anyone who has ever been a manager can agree that there are several challenges in staff scheduling. On the one hand, there are internal factors to consider: employees' personal preferences, balancing full-time and part-time staff and the time the process takes. And on the other hand, there are external factors that also affect scheduling: seasonality and hourly, daily and weekly fluctuations in demand.
Doing all of this manually turns into a complicated, time-consuming process that can often lead to employee dissatisfaction.
But how can we simplify and optimise hospitality staff scheduling for managers?
With technology.
Team management tools like Workforce by MAPAL simplify staff scheduling, allowing for quicker and more efficient processes. And that's not all. They can also cut scheduling time for managers by up to 80%.
How to increase productivity with hospitality technology?
To illustrate this question, let's take a look at a real case study: The Fitzgerald Burger Company.
Before implementing technology, store managers had to create schedules on Excel spreadsheets and were snowed under with so much paperwork. Not only that, but they also needed to get sign-off from head office before sending anything out. This process was hugely inefficient, and operations managers were looking for a solution to simplify and reduce the number of tasks involved.
So, to simplify processes and increase productivity, they opted to work with a solid and reliable solution like Workforce by MAPAL.
Let's analyse some of their results: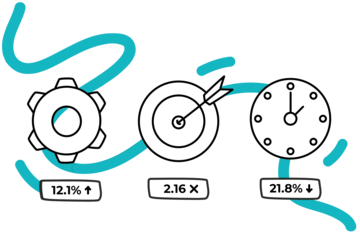 The Fitz reported the following results after implementing Workforce.
12.1% increase in productivity

2.16% greater precision in sales forecasting

21.8% reduction in overtime
As for owners, managers and restaurant staff, here are some of the benefits they were able to enjoy:
Reduced unnecessary overtime through labour optimisation.
Happier teams, thanks to better transparency and work-life balance. After implementing a staff scheduler to optimise employee availability and streamline processes, the company noticed an increase in their employees' satisfaction levels.
Reduced admin, enabling managers to focus on their company's growth.
What is the Workforce tool, and why do you need it?
Workforce by MAPAL is an employee management solution with a powerful labour optimisation engine.
Its advanced algorithms help managers create perfect schedules, avoid human error, reduce labour costs and save an enormous amount of time to invest in other business areas.
It also keeps track of employee satisfaction, ensuring that their preferences are always taken into account and helping to retain them in the long run.
Who can benefit from Workforce?
Workforce can benefit people at all levels of the organisation:
Owners and finance, operations and HR managers, as they gain clear visibility of all sites in just a few clicks and can manage several stores on the go.
Area and local managers save time scheduling tasks and can track T&A in real-time, freeing up their time to invest in the team and your customers. Contracts can be signed digitally, and managers can keep in touch with teams through communication channels, helping them stay on top of their employees' satisfaction.
Your teams gain more transparency about their shifts and can easily request holidays, contributing to a better work-life balance. By maintaining open communication channels, companies retain their talent longer, as employees feel involved and valued.
How can a restaurant management system improve productivity?
Granting multi-site businesses greater visibility and control: gain clear visibility of team and regional hierarchies. Particularly useful for multi-site chains.
Providing easy reporting and advanced insights: simplify decision-making with reports that break down data, from general information to detailed insights, and allow advance combinations.
Enabling access from different regions and in several languages: manage your teams wherever you are. Vital for growing companies and multi-site hospitality businesses.
Using powerful algorithms to predict staffing needs: harness the power of artificial intelligence to calculate your staffing needs for each shift based on your sales forecast.
Providing workforce deployment models and schedule optimisation for managers: optimise seasonal staffing and get your team planning just right, thanks to our optimisation engine and shift scheduler.
What features should you look for in a restaurant and bar team management software?
Now that we've established that technology is our biggest ally in efficient team management, the next question is: what aspects should we look out for when choosing technology?
Before settling on a solution, look for tools that offer the following functions:
Team management, to help manage sickness, lateness, overtime, contracts, and leave and absence reporting. Remember that your chosen tool should be able to schedule shifts only for available employees (taking their preferences and the law into account).
Last-minute shift scheduling: your tool should help you solve last-minute problems. If an employee is sick or there is an unexpected increase in demand, the system should suggest available employees that have the right skills for the job. Not only that, but communication must be instant, and it should enable you to solve the problem within minutes.
Time and attendance (T&A): essential for recording your team's working hours, with user-friendly apps, like SmartHub's fingerprint biometric attendance tracking system.
Shift scheduling: vital for team planning, staying compliant and keeping track of costs and employee availability.
Productivity optimisation: Automatic scheduling and accurate team planning to save managers' time.
Multiple languages and regions: especially important for restaurants undergoing international expansion.
Variable pay and automatic and manual control: while automation is essential, managing pay and conditions manually for particular cases is also useful. The solution should also allow both automatic and manual calculation of variable remuneration and bonuses for different countries and collective labour agreements.
Labour quotas: control different cross-border labour quotas, ensuring you comply with local labour laws and conditions.
Powerful algorithms that accurately predict labour requirements to maximise productivity and reduce costs.
Labour deployment templates to improve service and support site managers in making the right staffing decisions.
Greater visibility and control of multi-site business units and different management hierarchies.
Easy reporting and advanced insights, helping you make better decisions. Having access to real-time information through quick, intuitive, new-generation reporting is fundamental.
Full integration with other tools: your team management software should integrate seamlessly with other EPOS, payroll and accounting software.
Keep in mind these requirements when choosing your ideal restaurant staff management software.
Questions to ask yourself before choosing a workforce optimisation software
When choosing a workforce optimisation tool, it's easy to settle for a solution that meets our immediate needs and forget about the details that really make a difference once we've acquired the program.
So, before choosing a labour optimisation software, ask yourself the following questions:
Does the software developer understand my industry and its needs?
This point is crucial, as your business will benefit far more from a product designed to meet your industry's specific needs. Not only that, but industry-specific software will be easier for your teams to use and generally more cost-effective, as they require less investment in custom development.
Does the customer support team understand my company's operation, or do they only know about the product?
There's nothing more frustrating when dealing with technical problems than calling customer support and feeling like they just don't understand. The person on the other side of the phone often only knows how to give instructions and shows little or no empathy.
So, it's fundamental to choose a software provider that knows how to support and guide your specific needs and understands the need for a fast solution.
Is the software designed to support my company's growth?
While many great products are available, some are designed to suit only certain business sizes and aren't prepared for growth. Your software must be able to adapt to changes.
In MAPAL, for example, we work alongside our customers to develop new functions to suit their changing needs.
What if my company expands internationally? Will I be able to use the same tool in different countries? Will my teams be able to use it in their local language?
Many companies eventually have to change tools when expanding into new markets, either because their current solution isn't available in multiple languages or it can't adapt to local regulations.
As a result, they have to invest more time and money in implementing a new system and getting teams used to the new software, which is annoying for everyone, especially employees.
Changing tools can also be complicated regarding local legislation and collective labour agreements, as they often vary from one country to another. Choose a solution that ensures you stay compliant and are able to deal with pay structures and bonuses across different countries.
We all know that managing hotel and restaurant staff is a complicated task. However, the right tools will save you time and help you do it a lot easier and more efficiently.
And it's not just about implementing a system; it's about finding one that covers all your needs and adapts to industry changes.
If you'd like to improve your hotel or restaurant's team management, check out MAPAL OS solutions. Make the right choice for your company, choose software that has created by hospitality, for hospitality.