Hotels and restaurants reopening after lockdown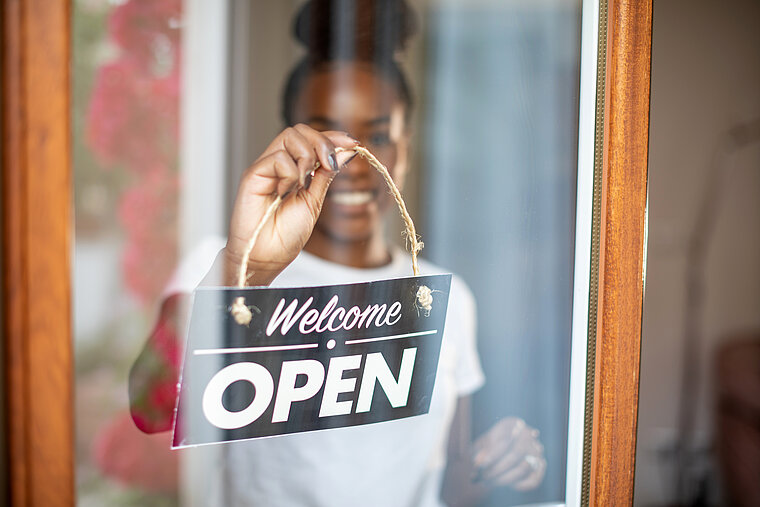 You may soon be reopening your hotel, restaurant, bar, or cafe for the first time. It may even be the second or third time, as restrictions have tightened, then lifted, then tightened…and now lifted again. And for those who have done this before, you may also agree that not everything went smoothly the first time around.

We know it easy to get things right the first time around. So we've been listening to our customers' successes and challenges and we've put together some of the lessons learned from previous reopening attempts, to help you this time around.
1. Adequate staffing levels when reopening hotels and restaurants
One of the most important things to think about when reopening your hotel, restaurant, bar or cafe will be how many staff you have on shift. While having too much staff will risk unnecessary overheads, being short-staffed will have a significant effect on your bottom line and your ability to hold on to great team members.
Wait times = lost sales
Avoid long wait times. If you guests are waiting longer than 20 minutes for a drink or food order, they will order less during the time they're with you. You can't afford to miss out on sales because you are understaffed.
e.g. cost of one alcoholic beverage less per guest: £4.50 * 100 covers * 7 days = £3k+ per week in lost drink sales from lack of staff
Look after your staff
Making sure you have enough staff on shift by optimising your team will also ensure they are less stressed and more likely to want to work for your business. If you look after your staff, they in turn will look after your customers.
Ensure repeat business
Poor service due to being understaffed will not only will you lose money, but you may also lose repeat business. People are impatient, so quick and friendly service is a must. Things may be exceptionally busy now, but make sure you are setting your business up for the long term.
Give people a great experience now, during the post-Covid rush, and they will come back at quieter times too. If not 59% of customers say they would not return to a venue after having just one bad experience.
Top Tip: don't forget the bill. The entire dining experience can be ruined by wait times for the bill, at the end of what could otherwise have been a great experience. Not only that, but you are taking up time that could be used for another guest. QikServe's 2016 hospitality survey found that over one in 10 UK restaurant-goers admitted to leaving a restaurant, café or bar without paying the bill. The reason was either because they didn't want to wait any longer or couldn't find a member of staff.
2. Get compliant: essential for reopening hotels and restaurants after COVID-19
Coronas not coronavirus
No one wants to be the venue that hits next week's news for a Covid-related issue. You may even be forced to shut as staff self-isolate, losing you valuable cash-flow. Make sure you have strict measures in place to avoid the spread of COVID19, that your team are well-trained and confident in them so they can easily explain them to customers.
Don't be afraid to make a show of cleaning throughout your venues. Make your efforts visible to customers to ensure they feel safe. Use clear checklists that can be copied across multiple venues. If you have multiple sites, it may even be worth using a tool like get compliant to ensure consistency across the board.
Refresher training
While Covid19 is at the forefront of everyone's minds when it comes to safety don't neglect other areas too. Think about refresher training for staff that have been out of work for almost a year in things like allergens and Food Safety. 75% of people will not return to a restaurant that has a food hygiene issue.
3. Employee development for reopening
It may be busy, and you may be reopening a hotel or restaurant that has been pretty much closed for over a year, but it is never too early to start thinking about your staff development.
You ok hun?
From initial and regular check-ins with staff about their mental wellbeing, to conversations about future development, don't neglect this area of people management. We'll be seeing huge recruitment drives and businesses will be fighting for the best staff. Make sure you retain yours.
Post-Brexit recruitment
BREXIT has created even more problems for hospitality recruitment. Think about what your business offers your employees, over and above their hourly wage. How can you blend digital with more traditional methods to engage staff, make them feel part of a team, and feel supported and in a job that offers future development?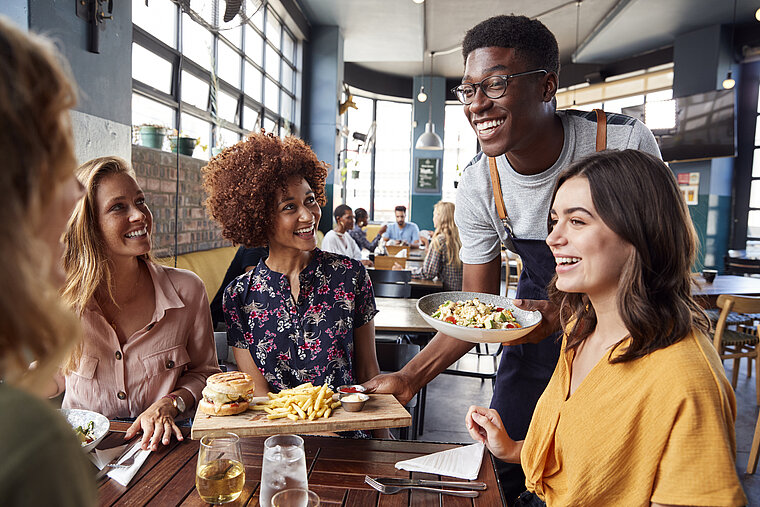 4. Reopening hotels and restaurants: service with a smile
Why is it we have missed hospitality? It's not just because can't be bothered to cook at home or want to see friends. It's also about the banter and service in hospitality venues that helps make the evening special. While certain levels of service are restricted, never forget the essence of hospitality and the customer experience.
Use a blended learning approach of online and face-to-face sessions. This will refresh staff's customer service skills and start them thinking about how they can exceed customer expectations at every turn. Check out these free training resources from Flow.
Think about every touchpoint with the guest from taking reservations and orders, to taking customers' payments. How can we ensure our guests have a great experience at each touchpoint? Speed, efficiency and the human element are key here. The average full-service experience has 82 human interactions. If you serve 200 guests a day, that is 16,400 opportunities a week for your team to delight or disappoint your customer.
Top Tip: Make eye contact with those waiting even if you are currently taking someone else's order. Make them feel noticed and assure them you will be with them shortly. There is nothing more annoying than feeling ignored while waiting to order!
Encourage staff to talk to customers to find out how their experience was. Deal with complaints before they leave if possible, but don't forget to check your online reviews.
Respond to negative reviews as quickly as possible and learn from them. Online reservations have rocketed, so your online reputation is of the utmost importance in attracting guests to your venue. Use a tool that enables you to manage all your reviews from one source and reply quickly and easily. Look to see if there are any trends in positive and negative reviews to see what you are doing well, and what you can improve.
We've made this handy hotel and restaurant reopening checklist:
Correct number of staff on shift?
Staff knowledgeable of Covid Policy?
Are staff confident with other compliance procedures?
Are staff trained in customer service?
Are ordering and payment systems in place and efficient?
Are team members aware of how to deal with conflict arising?
Am I paying attention to my online reviews?
Do I have the right technology to keep things moving smoothly?