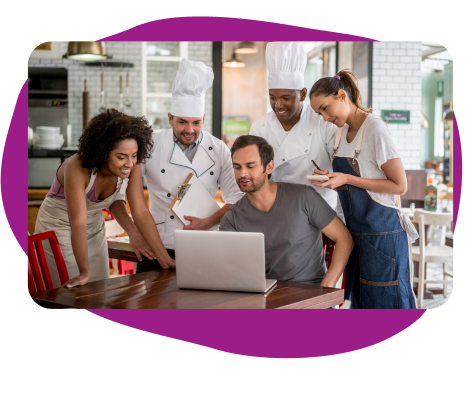 Stay on top of employee time keeping with Workforce
See how Workforce by MAPAL will help you revolutionise employee time keeping and take control of your labour costs.
A time tracking system is a way for companies to monitor and calculate both basic and more complex time tracking tasks. One of its main functions is to monitor working hours, lunch breaks and rest periods. You can read more about why T&A is important here
A good time keeping solution will help businesses calculate how much hourly workers should be paid, overtime payments (if applicable) as well as complying with the EU Working Time Regulations where applicable.
Some of the main benefits to hospitality business are:
Precise information for accounting and payment purposes
Exact time keeping is essential in sectors where hourly pay is common and where overtime may sometimes be necessary
Transparency and traceability
An easy-to-use time and attendance app like Workforce by MAPAL, and an employee app such as MAPAL One, ensure that both managers and their teams have access and visibility to the same information. This avoids friction and makes it much easier to resolve employee questions and issues.
Easy reporting and metrics
Managers are able to extract quick reports to help understand how many hours were required to perform certain tasks, or to generate a given amount of revenue. This is a great help in calculating productivity and for improving future shift planning activities.
Improved punctuality and discipline
Mobile-friendly time tracking software promotes punctuality and boosts morale, as employees are given responsibility over their own timekeeping, enhancing feelings of empowerment and autonomy.
Helps spot those who overwork
Some employees are so committed that they regularly work more than is required of them. But this can lead to burn out, which in turn can lead to health issues, absence and, at worst, high turnover. Time tracking apps help you control this and maintain your team's work-life balance.
Curious to learn more about Workforce?