A customer review management platform that integrates perfectly with all of your social channels.
Our customer review platform that helps you monitor and manage your online reputation. Collect customer reviews and gain deep insights into the customer experience.
Monitor your online reputation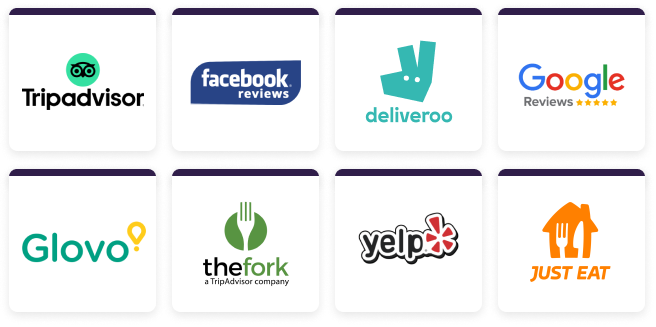 All your reviews in one place
One dashboard for all your reviews. We keep an eye on all major customer review platforms. Combine reviews from Tripadvisor, Yelp, The Fork, Google, Facebook and more in a single, easy to manage app.
A reputation management software with an AI system combining the best of rule-based and machine learning approaches to accuratly detect trends in your reviews. We are able to identify context, sarcasm, emojis and cut through the noise to pinpoint the most relevant patterns.
Automatic review response
Fastest time-to-value with our models that assist in generating automatic replies for customer reviews. Our system will learn the more you use it, adjust the tone of voice and understand the context to provide personalised answers.
With our deep learning image recognition algorithms you will gain a high-level understanding of the most popular topics and sentiment of the photos your customers take. Our reputation monitoring software analyses photos from Google, Facebook, Tripadvisor and more!
Intelligent decision-making
Take action and make better decisions with your findings. Automate reviews responses and share quality reports with your team members.
Manage each aspect of your business and make faster decisions to keep one step ahead of the competition.
Do you want to learn more about Reputation?
Leave us a message and our team will be in touch shortly.