Flow Learning's Lockdown Diary
We are running out of new ways to describe this year.
If you Google 'Unprecedented' and 'Covid' you will get 151,000,000 results. Well… 151,000,001 now :-)
With the Christmas season well under way we wanted to look back at this year at Flow Learning and let you know what we've been up to.
January- February – Ignorance Is Bliss
In January we had just merged with Spanish based Mapal software and we could still travel (as some of our lucky team members did to Madrid to meet our new colleagues.)
We were all blissfully unaware of what was about to hit the fan, most of us still thought Corona was a type of beer, we didn't have to drive to a castle for an eye test, and most importantly, we could still go to the pub.
Our Christmas game had been a roaring success with our client HIT Training coming in first place and donating £5000 to Only a Pavement Away, the charity for the employment of the homeless, ex-offenders and vulnerable veterans into careers within the hospitality industry.
This year, we've created a toy workshop game that your whole team will want to play. And because this is a time to support those less fortunate than ourselves, we'll again be giving away great prizes to your chosen charity. Everyone who's currently working in hospitality can play, so feel free to get your whole team involved to increase your chances of winning.
We also launched our free Wellbeing Module to help hospitality workers with their mental and physical health. We had no idea at the time how important this was soon to become. (This module is still available for free to any hospitality business or individual that wants it.)
March – Toilet paper wars and HospoLive
Then in March, with a couple hours' notice we were forced to leave our London office due to someone in our building testing positive for Coronavirus. We naively thought we'd be back in two weeks! Less than a week later the national lockdown was announced and all of us were suddenly stuck working from home. Toilet paper, pasta and flour became rarer than black truffle, and some of us were forced to spend far too much time with our other halves. Thank god for Tiger King.
As the Zoom and House Party parties became the norm we went into crisis mode to save our business while supporting our clients and the industry as best we could. HospoLive was born! With volunteers from across our industry including those from Bacardi, Megan's, KAM Media, HIT Training, London Cocktail Club and many more we created an online streaming channel to connect inspire and upskill hospitality workers. From yoga and fitness sessions, to marketing and careers advice, with a healthy dose of cocktail and cooking madness, HospoLive quickly grew arms and legs, reaching over half a million viewers.
April – Careers in Hospitality Talent Hub
As it became clear the lockdown was here to stay we collaborated with HIT Training to provide a complimentary learning platform for their Careers in Hospitality scheme. Candidates who joined the Careers in Hospitality Talent Hub were given access to a suite of different resources that would help to enhance their CVs, including a selection of free Flow e-learning courses on subjects such as food safety, health and safety and customer service. Those who signed up were also given priority access to apply for hospitality apprenticeships and job vacancies through HIT Training.
July – FREEDOMMM (Must be read in a Scottish accent)
After releasing our Post-Covid Playbook, HospoLive had its final day online as we greeted the end of lockdown with open arms and sped back into our much-loved hospitality venues. It was clear operators had gone to extraordinary lengths to ensure their venues were safe and fun places to be. There wouldn't be another lockdown, right? It's over… RIGHT?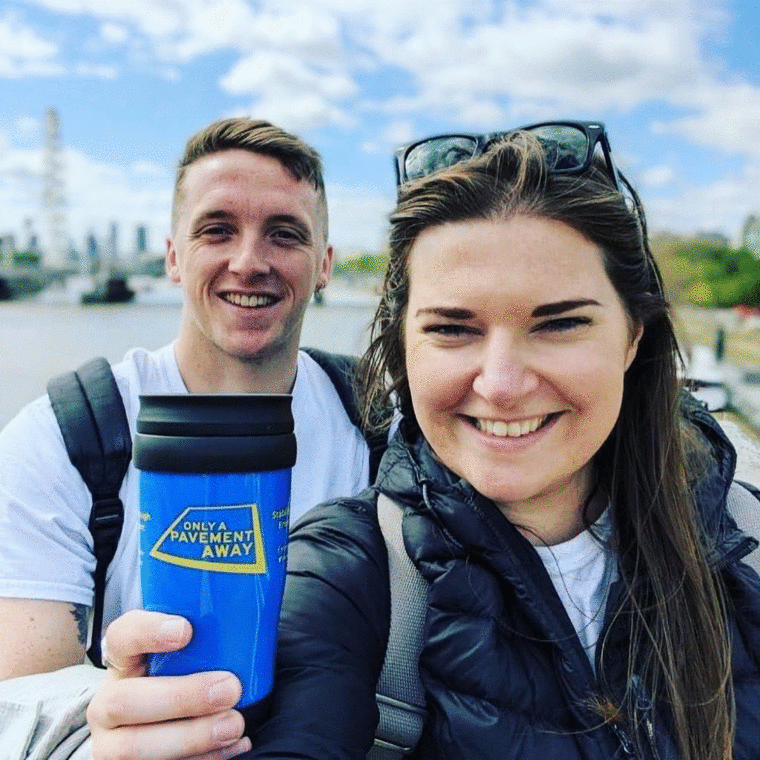 August – Fill A Flask
In August some of our team joined the amazing Only a Pavement Away with a whole host of other volunteers from the hospitality industry to support the Fill A Flask campaign. Walking around London we donated flasks that could be used for hot and cold drinks to rough sleepers across the city. For this and for numerous other efforts to support vulnerable people get back into work, the charity, founded by Greg Mangham, won a Hospitality Lockdown Hero Award from HRC. Learn more about their work and how you can get involved here: https://onlyapavementaway.co.uk/
December – No More Tiers: Christmas Charity Drive
Inspired by Hospitality's incredible response to the free school meals debacle our teams have once again been supporting a variety of charities supporting children from disadvantaged backgrounds.
Once again, our London team have been donating to charity Kids Out. "KidsOut provides disadvantaged children across the UK with exciting memories to cherish. Through giving hope and building confidence in young people, together we can "Make Kids Happy!" – Kids Out
Find out more at their website here. https://www.kidsout.org.uk/
Our Edinburgh team have been supporting Children First for many years and this year is no different, with our new colleagues at Mapal Software pitching in donations too as part of an online fundraiser.
"The coronavirus crisis has brought huge challenges for families across Scotland. Families have told us they are unable to get work, worried where the next meal is coming from and overwhelmed by stress, loss and bereavement. Children and families' lives will continue to change because of coronavirus. Our work to keep Scotland's children safe will continue to be needed more than ever." – Children First
Find out more on their website here https://www.children1st.org.uk/
Additionally, the Mapal team have been working with the "Fundación Banco de Alimentos de Madrid", a local foodbank to donate over 200 kilos of food to those in need this winter.
Find out more about the charity on their website here https://bamadrid.org/
Our ongoing commitment to the industry
Free training for anyone who has been made redundant:
We are committed to supporting this incredible industry and its amazing people. Flow is currently providing a free platform and training content for those who have been made redundant. All you have to do to get access is send us an email at enquiries@flowhospialitytraining.co.uk and we will get you set up with anything from Food Safety Level 2 to Hospitality Management courses.
Free Covid and Road to Recovery Training:
Additionally, we are making all of our Covid and Road to Recovery content free for all hospitality businesses. To sign up email leonore@flowhospitalitytraining.co.uk with your staff numbers and we will get you set up within 3 working days.
Christmas Referral Scheme:
If you would like a little pick me up this Christmas while supporting your favourite restaurant, why not take part in our Flow referral scheme? Introduce us to an interested contact at another hospitality business, and once we have met them (online) we will send you a £100 voucher for a hospitality venue of your choice, even if they don't become a client. More information here.
With the vaccine promising some return to normality we look on hopeful that our industry will bounce back stronger than ever. This has been a year of hardship but also incredible innovations and industry spirit. See you next year!