Constellation part of Levy Restaurants rolls out large-scale training with Flow Learning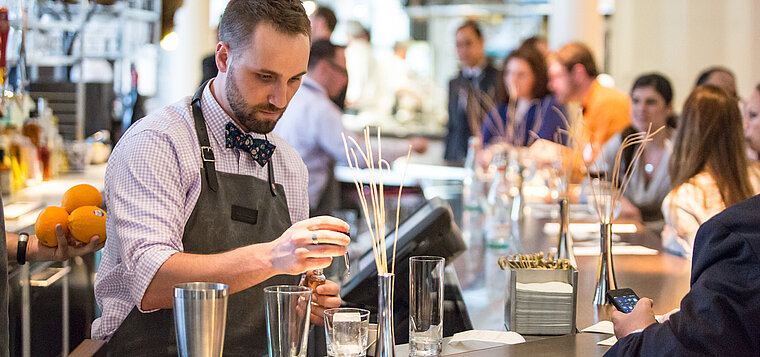 Levy UK, part of the Compass Group, is the official food and drink partner to legendary sporting stadiums, historic venues, conference centres and arenas. They pride themselves in designing concepts that complement each venue's character and help create lasting memories for their customers. Levy focuses on delicious food, great atmosphere and legendary service to add uniqueness for each of its clients including The Wimbledon Championships, Twickenham stadium, Chelsea Football Club, and The O2, to name a few. Constellation is Compass's own in-house workforce partner.
Covid-19; the challenge

In 2020, the company was about to undertake a huge internal recruitment drive. The goal was to create a connected work force that could support the needs of the business and bring consistency in training and onboarding standards. The pandemic forced them to look at the process differently, and they needed a training platform for better visibility and consistency.
From relying solely on face-to-face training to an online learning management solution

Constellation started working with Flow Learning in May 2020. The launch took place during the Covid-19 lockdown when all their sites were closed. Constellation and Levy wanted to use this time wisely and did a recruitment drive to be well-prepared for re-opening and support retraining during the pandemic. They had previously relied solely on face-to-face training, but the restrictions meant that this was no longer possible. So, they had to plan ahead, and by using our platform they were able to restructure the entire onboarding, training and assessment process.
Bespoke modules with branded skins tailored to each unique venue

Constellation uses Flow Learning management platform for training and onboarding new team members into the business. They prepare new recruits to work in the company's different business lines during their induction period, which in addition to hospitality, include healthcare, defence, and education. In addition to Constellation's requirements, we worked with Levy to create bespoke training content that complements Flow's core modules, and that they've also adapted to meet the brand's requirements. All their different sites are uniquely branded, and trainees experience this as soon as they log in to their Flow Learning account.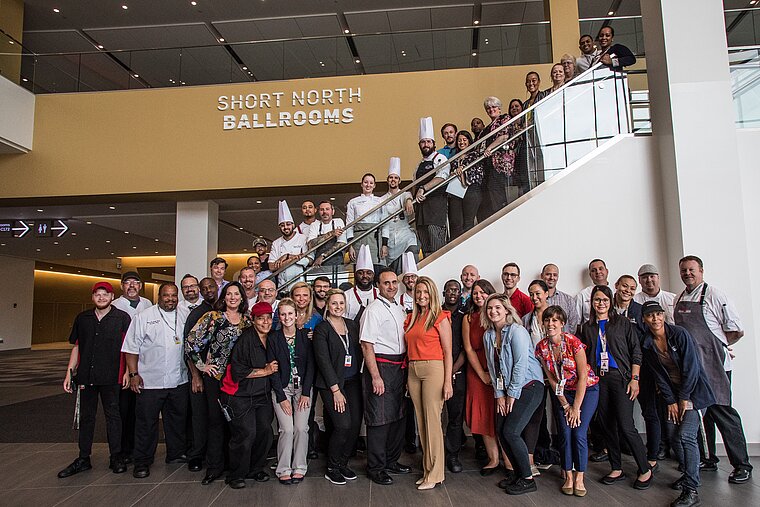 Our key driver was to create a new way to assess and onboard staff, amid the pandemic, that will now not only help reshape the way we do things now, but also for the future. Flow Learning and the products they offer have helped us to do that. We are excited to continue the L+D journey with them, to create something truly market-leading"
Over 5000 new starters are currently assigned induction training on Flow, and Constellation has managed to reduce the time taken from application to onboarding from an average of twenty days to five. The platform will eventually be rolled out to all staff across all sites for upskilling and refresher training. The training calendar and workbooks enable the L&D team to ensure that trainees receive and complete all the required training, be it online or face-to-face. This ensures faster and more efficient onboarding.
With Flow, they can now create shorter online sessions, offering 13 a day for six days a week throughout the UK. New recruits can then be assigned to their venues for final specialisation before they are ready to start.
Levy was planning a recruitment drive and bring more consistency to their onboarding process before the pandemic struck. So, they were forced to take a new perspective. They contacted Flow to help them streamline their processes and move away from solely face-to-face learning and prepare for a new, more efficient future.
Reducing their application to onboarding process from an average of 20 days to five.
Creating shorter, more engaging online courses that staff can fit around their schedules.
A more streamlined and automated application process where all candidates are contacted within 48 hours.